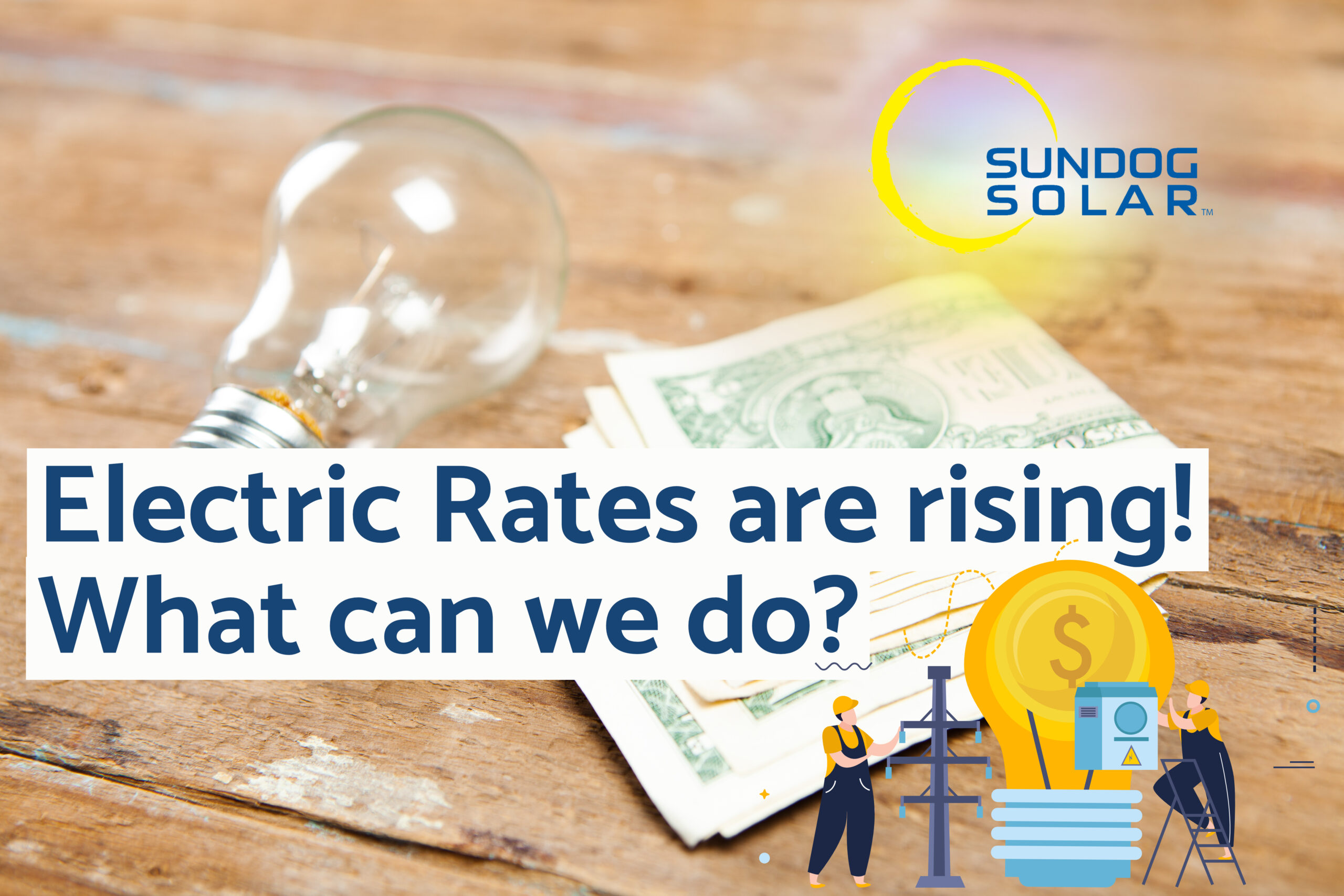 13 Feb

Why are we paying so much for electricity?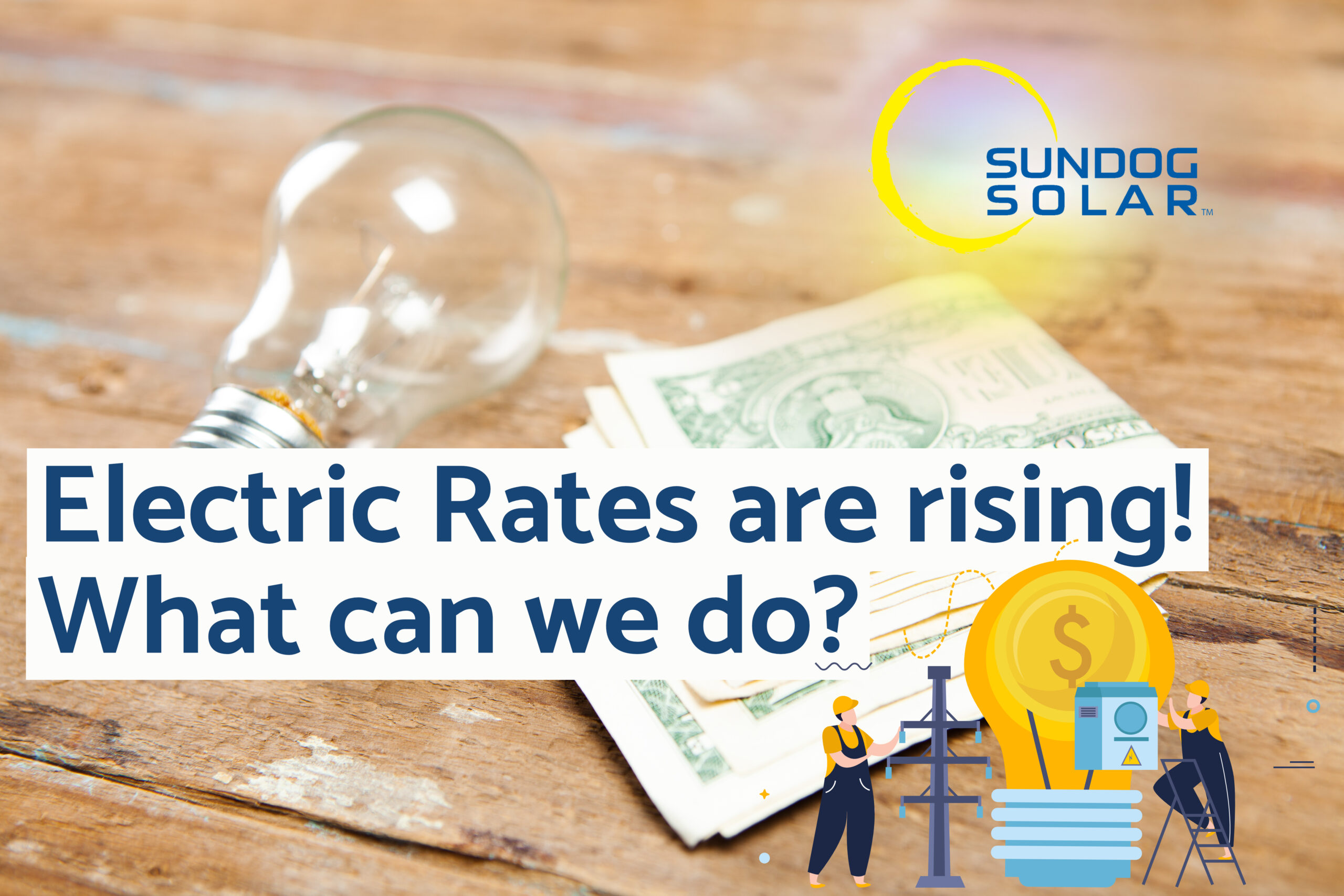 The Maine Public Utilities Commission (PUC) says an average Central Maine Power customer will pay 26% more on each bill beginning on January 1, 2023. Customers of the state's other major electric utility, Versant Power, can expect to pay 18% more. It seems like a perfect time to go with another option.
Maybe now is the time to see what Sundog Solar can do for you: click here for a FREE ESTIMATE!
Did you know how electricity prices are set in Maine? 
Your residential electric bill has two components:
Supply, which is the cost to generate the electricity you use;  

Delivery, which is the cost of delivering the electricity to you (e.g. wires, poles, equipment, and operations). 
Typically, supply and delivery are each about half of your bill each month.
In Maine, the supply price for electricity is set annually through a "standard offer" process administered by the Maine Public Utilities Commission. In this process, the PUC solicits competitive bids for the price of electricity for the following year.
About 90 percent of residential and small business customers in Maine pay the "standard offer" price for power. The average Maine residence uses about 550 kilowatt hours (kWh) monthly, according to usage data from Maine's utilities.
Energy suppliers bidding to provide standard offer service largely base their proposals to the PUC on their expectations for wholesale electricity prices in the coming year, as well as other market factors. The PUC routinely considers how to most cost effectively provide energy supply, including reviewing the contract lengths and other mechanisms to bring the lowest cost to ratepayers.
For 2023, energy suppliers expect it to be considerably more expensive to supply electricity in the coming year, primarily due to the rising costs of natural gas following the Russian invasion of Ukraine. More than half of all electricity in New England is generated by natural gas, and therefore natural gas essentially sets the market price for electricity in our region.
The PUC recently announced the new standard offer prices per kilowatt-hour beginning January 1, 2023 for residential and small commercial customers.
For

Central Maine Power

, the standard offer will increase by 49% to $0.176 from $0.118 in 2022. This will mean an overall bill increase of 27%, since the 49% price increase applies only to the supply portion of the electric bill and not the delivery portion. This will mean an increase of about $32/month for a typical household using 550kWh/month. 
For

Versant's Maine Public District

, the standard offer will increase 34% to $0.148 per kWh from $0.1108 in 2022. This represents a typical bill increase of 17%, or about $21 per month for a typical household. 
For

Versant's Bangor Hydro District

, the standard offer will increase on January 1, 2023 41% to $0.164, representing a typical bill increase of 21% or $26 per month for a typical household.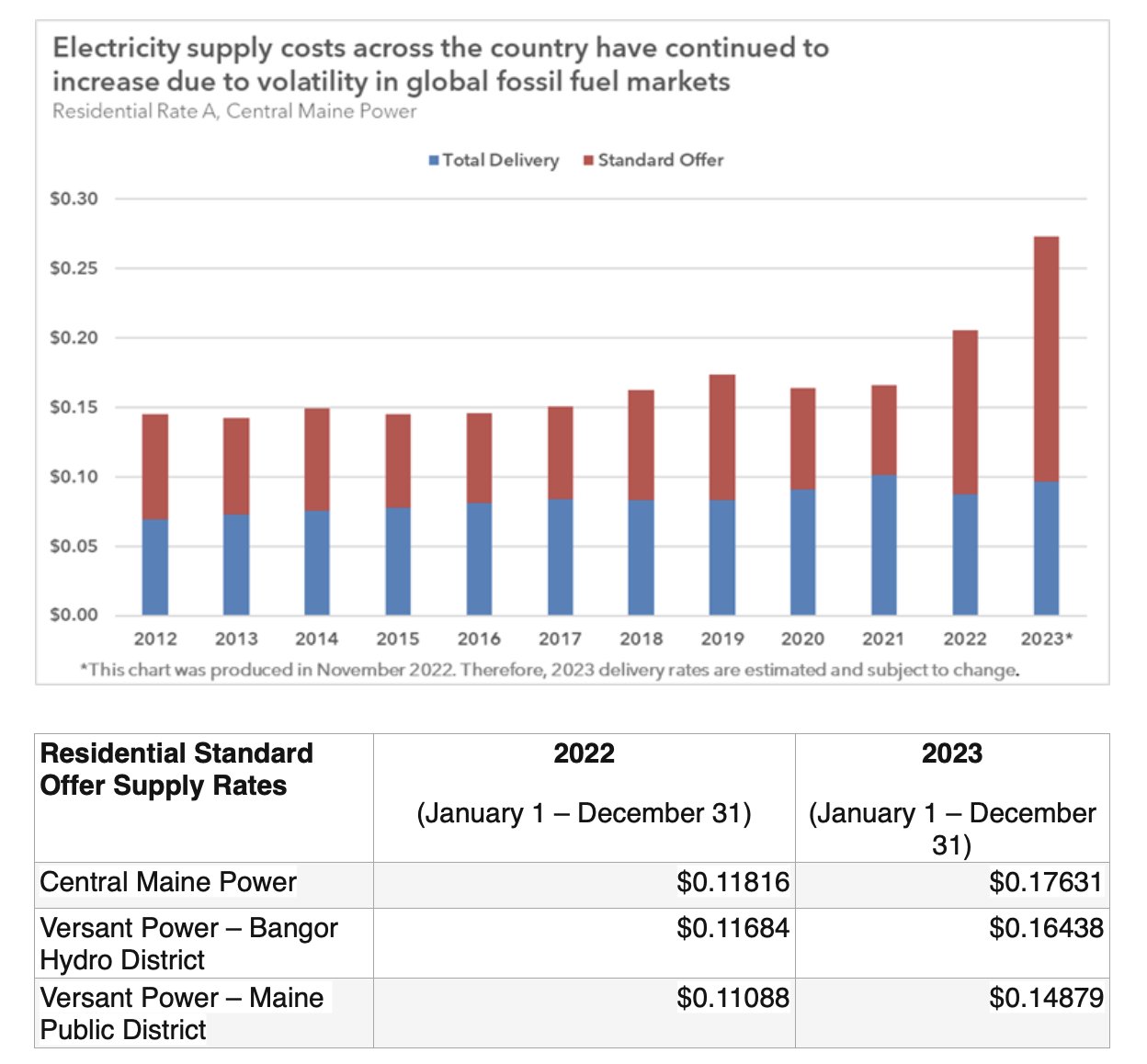 A complete list of the current standard offer electricity prices and delivery rates for all customer classes can be found on the Maine PUC's website here.
Supply rates vary for customers who choose to buy their electricity from licensed competitive electricity providers (CEPs). All customers are eligible to choose a competitive electricity provider; customers who do not choose to do so automatically receive standard offer service. A rate comparison tool to assist customers considering competitive electricity service can be found on the Office of the Public Advocate's website here.
Why are energy prices increasing? 
The electricity currently serving Maine and New England is over-reliant on natural gas for generation. Global fossil fuel prices are at historic highs since Russia – a major supplier of fossil fuels particularly to European and Asian economies – invaded Ukraine in early 2022.  This disrupted global fossil fuel markets, which were already under pressure from the economic recovery from the COVID-19 pandemic. Furthermore, New England's ability to import fossil fuels to the region is constrained, which has made our region distinctly vulnerable to these global market forces.
According to the PUC, standard offer price increases for 2023 are driven by these increased natural gas prices, which heavily influence wholesale electricity prices across the New England region because natural gas-burning generators comprise a significant portion of the New England generator fleet. Higher wholesale prices in turn result in higher retail prices, including the standard offer. The closely linked relationship between natural gas prices and wholesale electricity prices is demonstrated by the following chart published by ISO-New England.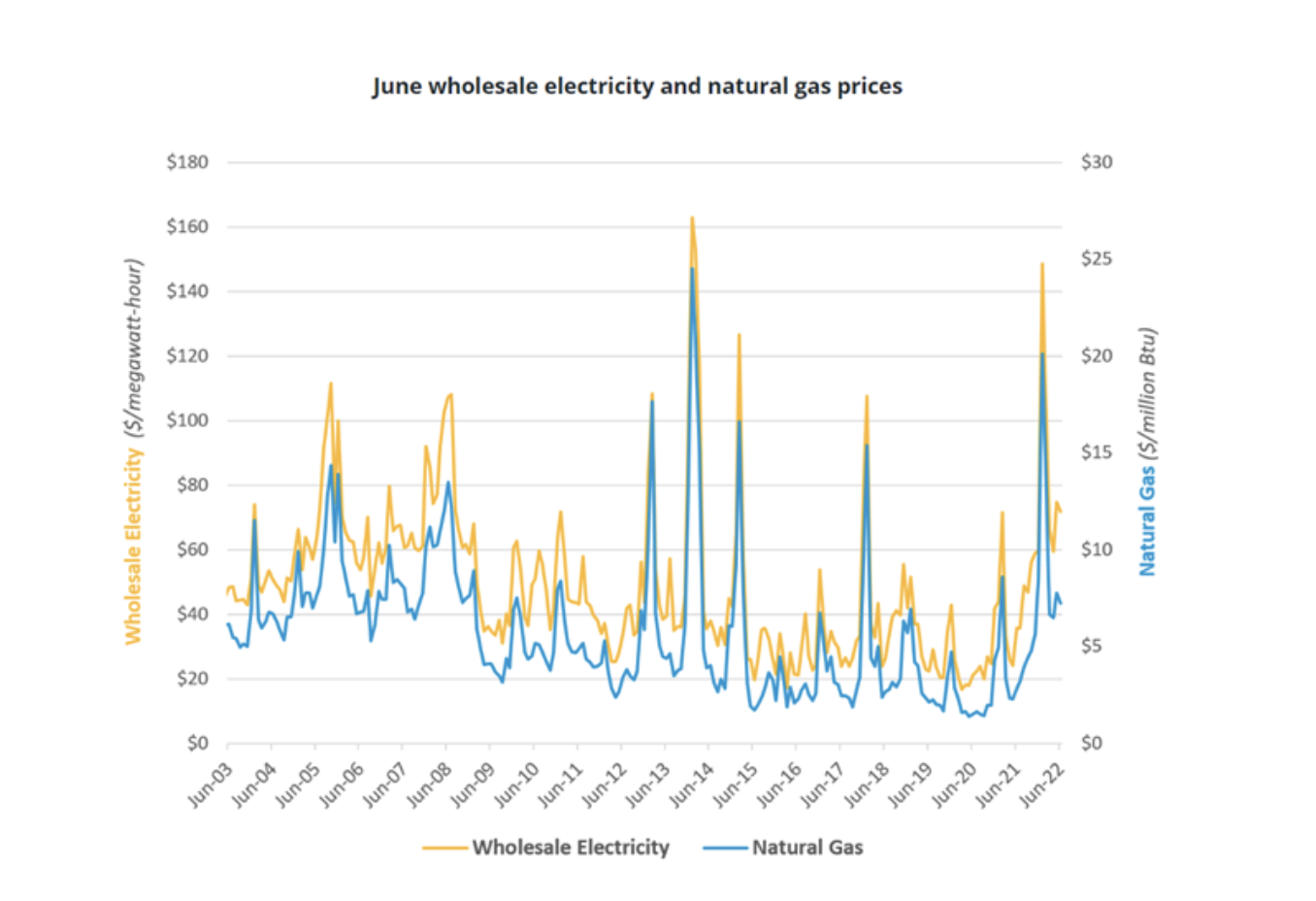 (Source: ISO-NE) 
How does Maine compare to other states for electricity costs? 
While all of the New England states have historically experienced higher electricity costs than the national average, Maine continues to have the lowest rates in the region, according to the Energy Information Administration.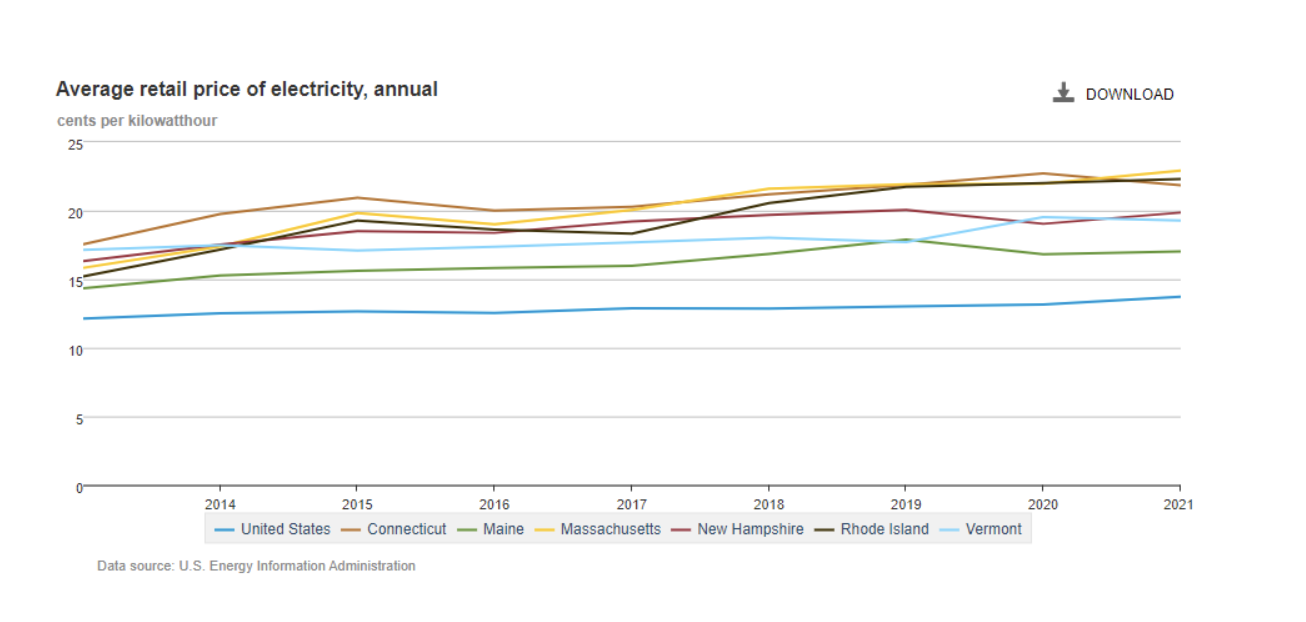 (Source: EIA) 
Standard Supply Offers for 2023 have increased substantially for each state in New England. While the timing and structure for each jurisdiction differs, Maine continues to offer some of the lowest rates as of November 2022.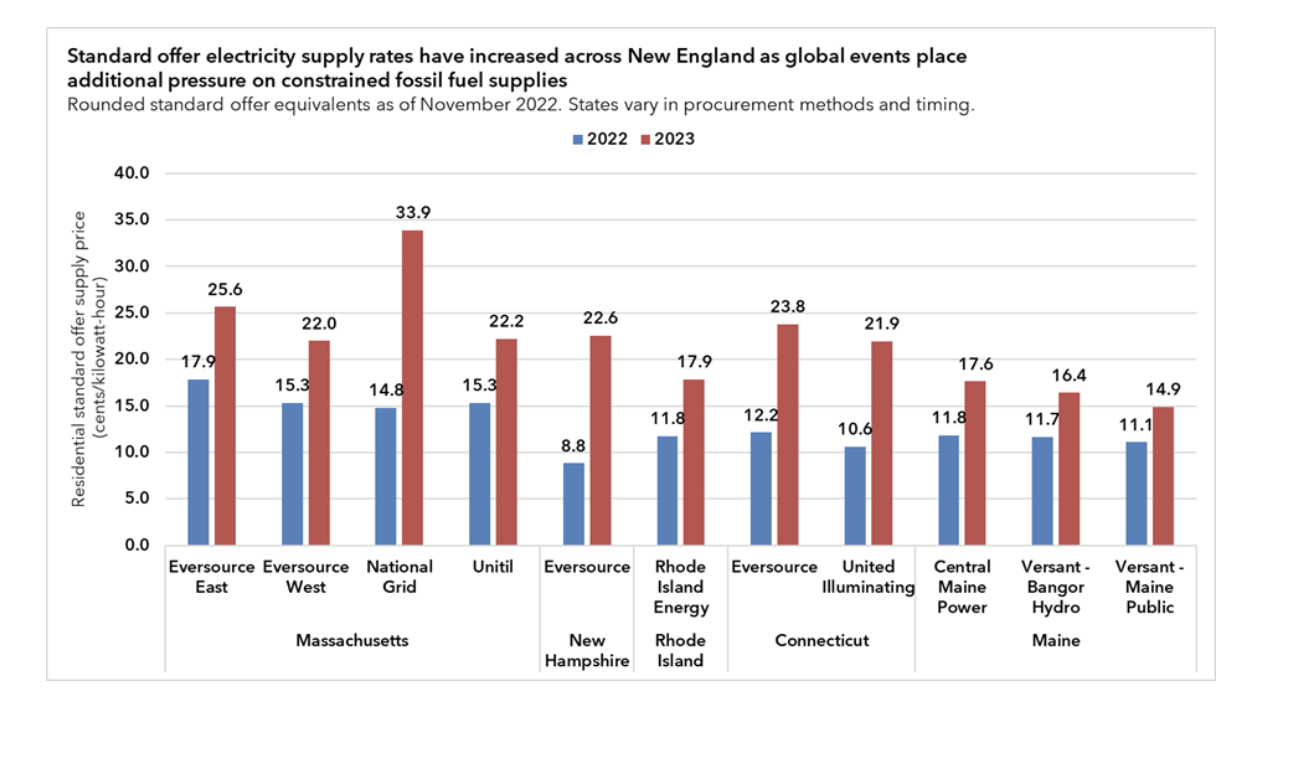 How do renewables like wind and solar affect prices? 
Maine's recent investments in renewable energy are helping counteract the cost increases driven by our region's over-reliance on fossil fuels, by providing stable, low-cost energy at affordable prices not dictated by global energy markets.
Renewable energy projects are already lowering the price that Maine people pay for electricity. Low-cost renewable energy projects resulting from a bipartisan bill signed by Governor Mills in 2019 have already resulted in the PUC approving electricity rate reductions of 5.5 percent for CMP customers and 4 percent for Versant Power customers. If all 24 projects from that bill had been operational in 2022, we estimate that Maine ratepayers could have saved 22 percent on electricity bills.
Fossil fuels often experience price volatility influenced by a global market, and we are seeing extreme examples of that right now. Renewable energy generation provides an opportunity for price stability. Costs of building and generating electricity from renewable sources have shown to be stable or decreasing over time, and in-state generation resources can also keep economic benefits within the state.
To date, renewables make up a small percentage of the overall electricity mix in the region, so electricity prices will continue to be driven by fossil fuel prices until additional renewable energy is online. In 2019, Maine established goals for transitioning to lower cost, homegrown renewable energy. With bipartisan support, the legislature committed Maine to achieve 80% renewable energy by 2030, with a goal of 100 percent by 2050.
What should I do about energy prices now?
Look into a renewable energy source form a reputable company like Sundog Solar. Click here for a FREE ESTIMATE!
If you are looking for other options here are some other resources available!
The Governor's Energy Office 2022-2023 winter heating guide contains resources for Maine people to help stay warm this winter and find heating assistance if needed.
The Maine PUC also has resources for managing electricity bills at https://www.maine.gov/mpuc/consumer-assistance/electricityhelp