---
Solar Energy for Maine Businesses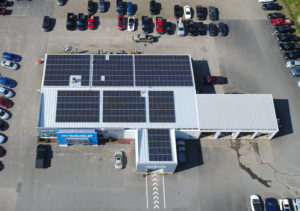 There are many reasons to use solar panels to power your business, organization, or municipality. Solar equipment prices have plummeted in the last decade. Solar energy for Maine businesses is a wise investment that can save thousands!
Our commercial solar energy systems generate electricity to power your office, farm, retail space, church, car dealership, town hall, restaurant, or hotel. If more energy is needed, such as during the night, electricity is drawn from the utility grid. When your solar panel system produces more energy than is being consumed, the excess is fed to the utility grid, and your power company provides credits under net energy metering.
Solar Business Save Thousands Each Year!
From Yarmouth to Bath, August, Bangor, Bar Harbor, and beyond, the Sundog Solar team can virtually eliminate your electricity bill. Most solar panel systems in Maine pay for themselves with the savings in just eight years. Yet, the system is designed to last three decades. Your business can run off of free electricity for decades! Our large commercial systems can have a return on investment of up to 12 percent.
Energy Independence for Maine
Many Maine business owners want to use clean, renewable energy to increase their energy independence and help the bottom line. From Wiscasset to Camden, Bangor, and Calais – using solar energy allows Maine businesses to reduce their dependence on imported fuel and to boost our local economy.
A Safe, High-Yield Investment
Because solar panels can virtually eliminate your electricity bills, the return from a solar system in Maine rivals many investments. The solar panels and components we install are incredibly reliable and are virtually maintenance-free. Our solar equipment has long manufacturer warranties. This protects your solar panel investment for years to come.
Power Purchase Agreements for Non-profits and Municipalities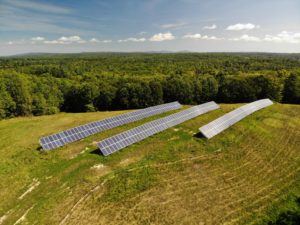 Get solar panels and pay only for the solar energy they produce! With our solar power purchase agreements (PPAs), a third-party owns your solar PV system, and we are responsible for all system maintenance. Your organization agrees to buy the solar electricity at a predetermined cost, for a certain length of time. This cost is generally lower than purchasing power from the electric company, resulting in instant cost savings. Sundog Solar installs state-of-the-art solar equipment and is here to help every step of the way.
Our PPAs are ideal for non-profit organizations and municipalities that want to go solar but don't qualify for the federal solar tax credits. Most agreements involve an option to purchase the solar system after a certain length of time, for a specific price.
Federal Solar Tax Credit Saves 26%
The federal government offers a tax credit on federal income taxes for 26% of the total system cost, including solar panels and labor. This is an excellent opportunity to reduce the total cost of installing a solar system significantly. Hurry, as the percentage of the solar tax credit is scheduled to taper off in future years.
A tax credit is more lucrative than a tax write-off, and it results in a dollar-for-dollar reduction in income taxes owed. For example, a $20,000 solar system could reduce your tax burden by $5,200.
Commercial systems may also qualify for either accelerated 5-year depreciation or bonus depreciation of the solar system. Speak with your tax expert for details. Sundog Solar also offers a great financing option for smaller solar systems. This allows businesses to go solar for $0 down and 2.99% APR for 12 years.
Advanced Solar PV Panels
Solar technology advances allow your system to produce more energy in a smaller space and mitigate shading effects. Sundog Solar uses power optimizers and microinverters to boost overall energy production. We use some of the best solar panels and equipment on the market, including Vikram Solar, Hanwha Q-cells, LG Solar, Solaria, SolarEdge, SMA,  SimpliPhi Power, Enphase Energy, and SMA Sunnyboy products.
Solar EPC
Sundog Solar offers turnkey energy solutions from start to finish. Our team includes engineering, procurement, and construction, making the entire process seamless.
Solar System Monitoring
Do you want to know how much electricity your solar PV system is producing? Our commercial solar systems include solar system monitoring. Web-based solar monitoring allows you to have a wealth of solar system output information at your fingertips. Our monitoring systems deliver real-time and historical solar system output data from anywhere.
Sundog Solar – Maine's Commercial Solar Installation Team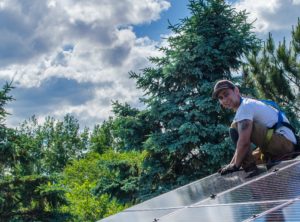 The Sundog Solar team has NABCEP-certified solar installers and electricians to get the job done right. With years of experience installing solar energy systems for Maine businesses, Sundog Solar has a strong reputation for excellent customer service and quality workmanship.
We are helping businesses, non-profits, and municipalities from Rockland, Augusta, Bangor, Ellsworth, Bar Harbor, and beyond to virtually eliminate their energy bills and help the environment. The Sundog Solar team uses quality solar panels and equipment by SMA, SimplePhi Power, Vikram Solar, Q Cells, LG, Solaria, and SolarEdge. We work as a team to truly serve our customers!
How much can your business save by going solar? Call Sundog today at 207-548-1100 to find out!