Rising energy costs challenge many Maine businesses. Sundog Solar installs commercial solar energy systems with a high return on investment, lowering operating costs for several decades. Sundog Solar can engineer and install complex solar systems that are customized for each project.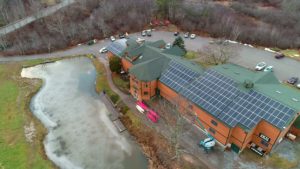 At Sundog Solar, we understand the importance of using reliable and innovative solar panels, equipment, and batteries. Our team installs industry-leading components with long warranties and high-quality materials.
Our solar experts use the best solar panels and equipment on the market. We install Blue Planet, Canadian Solar, Hanwha Q-cells, LG Solar, Solaria, SolarEdge, Sonnen, SMA, Silfab, Schneider Electric Conext, Tesla, Enphase, and SMA Sunnyboy products.
Did you know that Maine businesses can take advantage of a federal tax credit for 26% of the total system cost? A tax credit is a dollar-for-dollar reduction in federal taxes owed and is more valuable than a tax write-off. Also, solar businesses can take an accelerated depreciation of 87% of the system cost over six years. Now is a great time to go solar in Maine!
Want to find out how much your business or organization can save with solar energy? Sundog Solar offers free phone consultations and site surveys. We begin by learning your business or organization, your energy needs, project budget, and goals.
Solar for No Money Down
Sundog Solar installs commercial solar energy systems for towns, schools, and non-profit groups under Power Purchase Agreements. Our customers can typically purchase solar electricity for less than grid power, resulting in instant savings. These agreements are an excellent way to take advantage of the benefits of solar energy without the upfront cost.


Frequently Asked Questions
Why install solar energy for my business?
Many Maine businesses are installing solar panels to reduce their energy bills and help the environment. As utility rates continue to rise, energy savings increase over time. Also, federal tax incentives significantly reduce the system's total cost. Solar businesses can also enjoy the positive publicity of doing something to help the environment.
What types of businesses or organizations are good candidates for solar energy?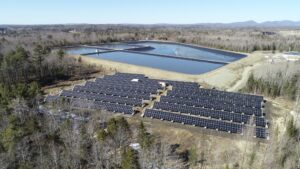 Many businesses can benefit from installing PV panels. We've installed systems on car dealerships, breweries, schools, retail stores, town garages, office buildings, churches, vet clinics, and numerous farms. 
It's ideal if the business or organization has a sunny roof, but there are many options, even if they don't. For WERU, we installed the solar panels in the parking lot in a sunny location, and the panels produce enough energy to power the offices. Maine Sport Outfitter, MDI High School, Paradis Ace Hardware, Treworgy Farms, and many more have solar panels on their roofs.
How can towns and municipalities take advantage of solar energy?
Throughout Maine, numerous municipalities use solar energy to reduce their operating expenses and save taxpayer dollars. In Stockton Springs, we installed a solar system on the town garage. For the towns of Waldoboro, Damariscotta, Oakland, and Tremont, we installed solar panels on capped landfills. Old landfills are some of the best locations around because space is plentiful, and there are few other development options available for these properties due to EPA regulations.
For municipalities, we typically recommend a Power Purchase Agreement (PPA). This arrangement allows towns to get solar panels for no money down but still enjoy the cost savings. Municipalities can enter agreements to have the system installed on their property, and they pay just for the power from the solar panels and not for the installation itself. They then purchase the electricity at a discounted rate, resulting in significant cost savings. Depending on their power use, we've helped some towns save hundreds of thousands of dollars in electricity costs.
Are there tax credits and write-offs available for solar systems?
Yes, businesses can take advantage of a couple of solar tax incentives. These incentives are available for companies that purchase the solar energy system and are not available for solar PPAs. 
The Investment Tax Credit (ITC) can reduce the total system cost by 26%. Companies can also depreciate the solar system cost on their federal taxes. With the bonus depreciation, businesses can write-off 100% of the system cost in year one!
Businesses use IRS Form 3468 to claim the commercial solar tax credit. Homeowners can claim the residential solar tax credit using IRS Form 5695. Speak with your tax expert to learn how to apply solar tax incentives to your business.
What are the disadvantages of solar energy?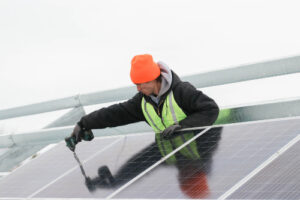 Not all businesses are well suited for purchasing a solar system. If a company has a shaded property, it might be a better fit to install the panels off-site or join a community solar project. When the roof is shaded, a ground-mount system in a sunny area can be a good option. A Sundog Solar design team member can help determine the best location for solar panels. If a business does not own the property, it might not be possible to install solar panels. 
Like any mechanical system, solar equipment can fail. For this reason, we offer a five-year warranty on labor, and we install solar equipment with excellent manufacturer warranties.
Should I install batteries for my solar energy system?
Unfortunately, Maine ranks 49 out of 50 states in grid reliability. Winter storms can cause power outages in Maine, reducing business productivity. The Sundog Solar team installs solar systems with battery backup to help keep business operations running during outages. These systems feature high-performance solar batteries with excellent durability to power your most critical loads.
Can I run heat pumps with my solar system?
Yes, solar energy and heat pumps are an excellent combination. Heat pumps are one of the most efficient and economical ways to heat your business. They also have the added benefit of providing summer cooling.
Efficiency Maine offers rebates for Heat Pump Retrofits for Small Business. If you are a "Small General Service" (SGS) or "Small Service" (SS) electric customer and looking to replace your primary heating system, then you're eligible for enhanced heat pump incentives on higher efficiency systems. Businesses can receive $1,600 per single-zone system (HSPF 12.5), with a maximum of three systems or $4,800. Sundog Solar is an approved contractor for the Efficiency Maine program, and we install heat pumps that qualify for rebates. 
What is the Sundog Solar service area?
Sundog Solar is located in Searsport, Maine. We primarily serve Midcoast and Central Maine, including Bangor, Orono, Hampden, Ellsworth, Bar Harbor, Augusta, Lewiston, Waterville, Pittsfield, Camden, and Rockland. We serve the entire state for larger commercial projects, including Portland, Scarborough, Biddeford, Sanford, Brunswick, Millinocket, Bethel, Islesboro, and surrounding areas.