EV Charger Installations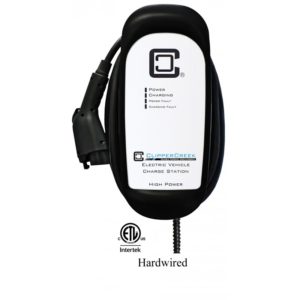 Many Mainers want to reduce their reliance on foreign oil and find clean transportation solutions. An electric vehicle fleet is a great way to realize these goals!
Sundog Solar installs EV charging stations on businesses, municipalities, and nonprofits, allowing for rapid and convenient vehicle charging. Combined with a solar panel system, your electric vehicle can run off of 100% renewable energy.
Rapid EV Charging for Your Business
Sundog Solar installs ClipperCreek electric vehicle charging stations for plug-in hybrid and electric vehicles in your fleet. These American-made, Level 2 EV chargers recharge most models in just a few hours. This high-powered 40-amp Level 2 EVSE is compatible with all major models of electric vehicles, including the Chevy Bolt, Nissan Leaf, and BMW i3 and has a 25-foot cable for added convenience.
Quality EV Charger Installations by Sundog Solar
Our team is skilled in installing high-quality electric vehicle charging stations throughout Maine. Sundog Solar has licensed electricians that are skilled in installing Level 2 EV charging stations. We typically install the chargers in garages, driveways, or on office buildings or wherever they are most convenient.
Advantages of Electric Vehicles in Maine
Lower your carbon emissions
Save money on fuel
Energy independence
From Rockland to Camden, Augusta, Waterville, Pittsfield, Machias, and beyond, electric vehicles allow drivers to save money on fuel. Our company vehicle, a Chevy Bolt has a range of 238 miles and costs less than $10 per charge.
Two-thirds of Maine's electricity comes from renewable sources, primarily hydroelectric dams, biomass generators, wind turbines, and solar panels, according to the U.S. Energy Information Administration. Therefore, using an electric vehicle reduces greenhouse gas emissions even if you don't have a solar system. Be part of the clean transportation movement in Maine!
If you install a solar PV system, your EV charging station can power your electric car with energy from the sun. This means that your vehicle isn't using any fossil fuels!
Get a free EV charger consultation. Contact the Sundog Solar team today at 207-548-1100.