Off-grid Solar Energy
Is your property connected to the power grid? If not, a standalone off-grid solar system is a good option for greater energy independence in Maine. From Brunswick to Bangor, Augusta, and Bar Harbor, the Sundog Solar team is skilled in installing off-grid solar systems with batteries throughout Maine.
How do off-grid solar systems work?
Sundog installs roof, ground, and pole-mounted solar panel systems throughout Maine. The solar electricity is used to power your home, and the excess energy is stored in your battery bank. This energy is available at night, on cloudy days, or whenever you need the power, reducing or eliminating the use of a generator.
What does the solar inverter do?
The solar inverter converts power from DC power from the batteries to AC electrical current that your household appliances and electronics can use. Inverters are necessary if you want to use AC-powered appliances and devices, such as washing machines, lights, computers, televisions.
For off-grid solar systems, some people choose to use DC-powered appliances without an inverter and the appliances directly draw DC-power from the batteries. Sundog Solar installs quality Schneider Electric Conext, Outback, and other solar inverters.
What are the disadvantages of off-grid solar?
Your solar system will contain solar panels and a bank of lead-acid or Lithium batteries. Having an off-grid system requires homeowners to be more aware of their energy use and the amount of power stored in the batteries. Although the inverter and solar panels for your home require little if any maintenance, the batteries will need to be replaced periodically. This is especially true for lead-acid batteries.
Do your solar systems include warranties?
Yes, Sundog Solar provides excellent warranties on all the solar systems we install. Because we customize each system for the installation, the warranties vary depending on the solar equipment.
For example, we install Solaria solar panels with a 25-year manufacturer's warranty and power performance guarantee. Many other solar panels have a 12-year manufacturer's warranty and a 25-year power performance guarantee ensuring a certain efficiency level over time. Outback and Schneider off-grid inverters come with a 5-year warranty, and the batteries typically have a 7-year prorated warranty.
What size solar system do I need?
A Sundog Solar expert is happy to help you size your solar system if we have some information on the loads in the home. This load estimator can also help you get started in calculating your home energy usage. Off-grid living is best for people that do not have high power loads, such as electric heaters or air conditioning.
These are the standard systems that we install which typically include 12 or more solar panels. For smaller systems, there are kits available from online retailers.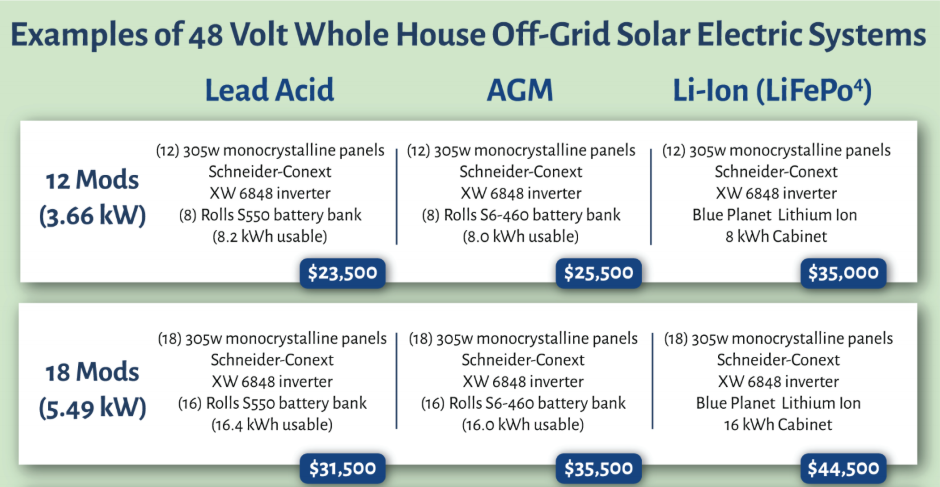 Sundog Solar – Your Solar Energy Experts
Sundog Solar has experience with multiple applications of off-grid technologies, ranging from systems installations in areas inaccessible to the power grid to installations for urban homeowners interested in sustainable options. Our installation team includes NABCEP-certified installers and a Master Electrician. We serve the state of Maine, including the Bangor, Camden, Freeport, Bath, Brunswick, Auburn, Augusta, Waterville, and Orono.