Commercial Solar Energy Systems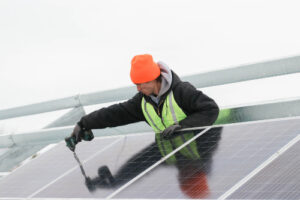 Many Maine businesses want to lower their operating expenses. A commercial solar energy system is a great way to cut energy bills and create greater energy independence. With high electricity rates and dependence on fossil fuels, taking advantage of solar energy is practical.
Solar PV is a proven technology that uses reliable equipment to offset some, most, or all of your business's electricity use. Sundog Solar has installed solar systems on farms, office buildings, schools, landfills, retail stores, and a car dealership.
Take Advantage of Solar Tax Credits and Write-offs
Businesses can take advantage of a 26% federal tax credit. This is a dollar-for-dollar tax credit off federal taxes owed, which is more lucrative than a tax write-off. Solar businesses can also take advantage of accelerated depreciation for 85% of the system cost over a six-year period. These solar energy tax incentives can dramatically lower the total of the solar system.
Maine Has Great Commercial Solar Energy Potential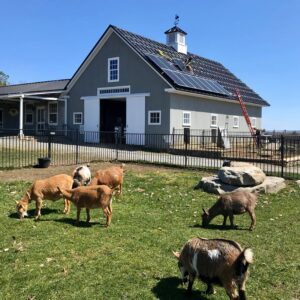 Maine receives a yearly average of 4 hours of sun each day. When you consider that Germany averages 3.5 hours of sunlight each day and is a world leader in solar integration, Maine is perfect for solar energy. Even during the winter months, solar panels can produce a lot of energy.
Quality Solar Panels and Components
The Sundog Solar team installs some of the best solar equipment on the market, including the Tesla Powerwall, Hanwha Q-cells, LG Solar, Solaria, SolarEdge, SMA, Silfab, REC, and SMA Sunnyboy products. Our solar panels, inverters, and components have long warranties to protect your investment.
Sundog Solar – Maine's Trusted Solar Energy Company
Since 2009, Sundog Solar has been engineering, procuring, and installing quality renewable energy systems throughout Maine. Our team of solar contractors includes certified solar professionals and licensed electricians. We bring over a decade of commercial solar energy experience to every solar installation project. We have extensive experience with roof and ground-mounted systems with and without solar batteries.
Featured Commercial Solar Energy Projects
MDI High School in Bar Harbor, Maine
Project Size: 435 kW
Commissioned in: 2019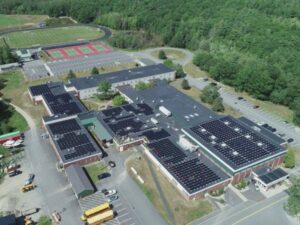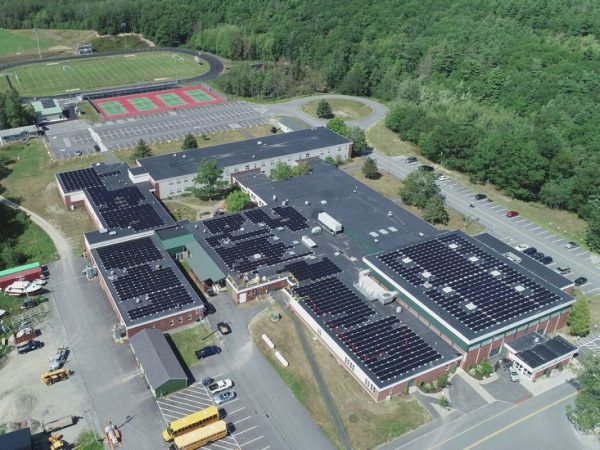 As the largest solar system on a high school in Maine, this installation generates 100% of the power consumed by the school. The project consists of 1,450 solar panels and will save the school an estimated $1.3 million over 25 years. Superintendent of Schools Marc Gousse likes the benefits of the solar system on the bottom line.
"It's going to mean an impact over the next 20 years, of a savings of over $1 million – which, when we talk about resources, those are resources that we're able to look at devoting to other programs and teaching and learning in our communities." 
The solar system was made possible with a collaboration between multiple stakeholders. "I am incredibly proud of the collective efforts that have led us to this momentous occasion.," says Matt Haney, MDI High School principal.
Mid-Coast School of Technology – Rockland, Maine
Project Size: 312.5 kW
Commissioned in: 2020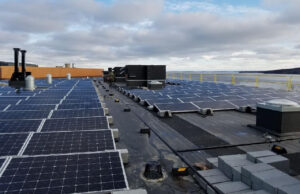 As one of 27 vocational schools in Maine, the MCST helps prepare students for economic and personal success. The newly constructed 91,000 square foot facility has wide windows and geothermal heating and cooling equipment. Efficiency Maine is also providing significant rebates due to the energy-efficiency features of the building. Sundog Solar installed a 1,000-panel solar array on the roof of the school. 
"Every high school in Maine is looking for ways to reduce their operating costs," says Sherry Moody, business manager for the Midcoast School of Technology. "Having a green building with solar panels is a great way to save money for things that truly benefit students." 
"Schools are a great match for solar energy systems," explains Chuck Piper, co-owner of Sundog Solar. "They draw more power during the day, which corresponds with the available sunlight. It also helps promote awareness of the benefits of solar energy within the school and surrounding communities. We also installed a large solar energy system on MDI High School in Bar Harbor and it was widely celebrated within the community."
Tremont Landfill – Tremont, Maine
Project Size: 153 kW
Commissioned in: 2019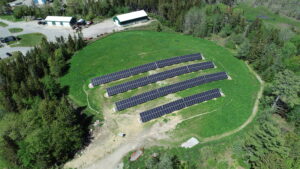 Installed to save taxpayer dollars and to help the environment, the Town of Tremont entered a Power Purchase Agreement with Sundog Solar. The town now purchases electricity at a discounted rate compared to utility power, saving hundreds of thousands of dollars over the life of the system. When constructed, this solar farm was the largest array on Mount Desert Island and the first solar landfill in former Emera Maine territory.
This system is located on a capped landfill that has been closed since 1996. The property provided little value to the community, thus the solar system is a win-win for the town and the environment. This project was installed as part of a larger vision to make Mount Desert Island energy independent by 2030 and to make it an epicenter of citizen engagement, sustainability, and economic vitality. 
"This solar project is a win-win for the community of Tremont," said Town Manager Christopher Saunders in the release. "It lowers the town's long-term energy costs and is good for the environment."
Waldoboro Transfer Station – Waldoboro, Maine
Project Size: 110 kW
Commissioned in: 2017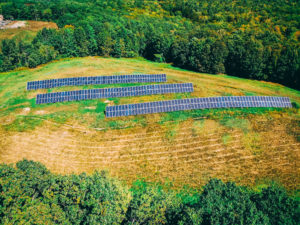 Capped landfills have few development options and provide little ongoing value to local residents, yet there are more than 400 of them in Maine. Located on a closed landfill, this solar array is an excellent opportunity for the town to save money and efficiently use space. 
The solar PV array was installed with a Power Purchase Agreement and has resulted in instant savings. Waldoboro Transfer Station Solar system monitoring allows residents, town officials, and other stakeholders to monitor the system via an internet portal. 
Sundog Solar has been working closely with the Department of Environmental Protection to develop solar arrays on closed landfills and obtain the required permits for siting a solar system on a landfill site. The solar arrays required a staggered layout to avoid test pits and methane gas vents that must remain unobstructed. The solar panels do not disturb the protective clay cap, thus making them the perfect location for a solar energy system. 
"We've been very satisfied with the production from the solar system," said Julie Keizer, town manager for the Town of Waldoboro. "The solar system has been producing clean energy for over a year and it is reducing the town's energy expenses."
Oakland Landfill – Oakland, Maine
Project Size: 497 kW
Commissioned in: 2020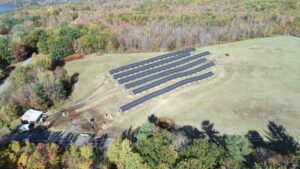 The Town of Oakland is producing enough solar energy to offset all its power, including sewer pumps, the fire station, police station, town office, library, and town garages. The array was installed on a capped landfill under a power purchase agreement and is expected to save the town $1 million in energy costs over 20 years. 
"Not only is the land the perfect spot for a solar array, but it is also ideally located next to 3- phase power and just down the street from a CMP substation," says Chuck Piper. "It will allow for substantial future growth."
Thomaston Wastewater Treatment Facility – Thomaston, Maine
Project Size: 503 kW
Commissioned in: 2021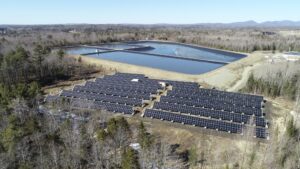 The Town of Thomaston, Maine, installed a solar system to provide power to the treatment facility, fire station, town office, public works, and street lights. The system will produce an estimated 90% of the town's power. The town owns the solar system outright and was made possible with a low-interest loan through the Maine Municipal Bond Bank. The solar energy installation features bi-facial solar panels.
"We can install the solar energy system with no increase in taxes or resident fees," said John Fancy, superintendent of Thomaston Pollution Control Department. "Instead of paying a higher electricity bill, much of the electricity savings will go towards paying off the loan." 
That means the project will be cash flow positive right away. Wastewater treatment plants are energy-intensive operations because they require moving millions of gallons of water during the treatment process. The Thomaston plant is a modern lagoon-type facility constructed in the 1990s. The town is also working on other clean energy initiatives, such as installing an electric vehicle charging station and replacing inefficient equipment.
Pratt Chevrolet Buick GMC – Calais, Maine
Project Size: 100 kW
Commissioned in: 2016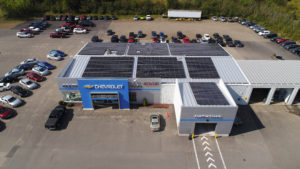 Owner Ian Pratt has long been dedicated to protecting the environment and cutting energy costs. The dealership has been reusing motor oil to heat the building for twenty years. The business conserves electricity with natural daylighting and LED lights.
When installed, this 354-panel array was the largest in Washington County Maine. Excess power is fed to the electric grid in exchange for energy credits and the system qualified for a federal tax credit and depreciation.
During the installation, the Sundog Solar team upgraded Pratt's electric service from 120/208V service to 277/480V service in order to efficiently export all the power from the new solar array to the electric grid.
"It's renewable, and it's really clean," said owner, Ian Pratt about solar power. "I've always been about energy efficiency and trying to do what makes sense financially and environmentally. With proper planning, the two things can converge. You can be both environmentally friendly and economically friendly. I won't do one without the other."
Maine Sport Outfitter – Rockport, Maine
Project Size: 62 kW
Commissioned in: 2018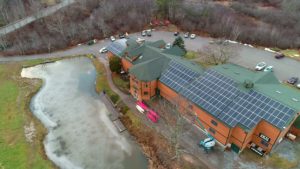 This store is recognized as a premier destination for outdoor gear, clothing, and footwear. in Midcoast Maine They have helped customers enjoy the great outdoor experience for over 30 years. In 2018, they hired Sundog Solar to install 182 solar panels on the roof of their flagship store in conjunction with a major renovation project.
Because the business could take advantage of the federal tax credit and bonus depreciation, the project has an estimated six-year payback. The solar panels are also highly visible to motorists on route 1, boosting their company reputation for customers and the broader community.
"This project reflects Maine Sport's commitment to our natural environment, as well as supporting the business's long-term financial health. This is truly a win-win effort for Maine Sport.", said co-owner Stuart Smith. "Both Sundog Solar and First National Bank were instrumental in making this project possible."
Cranberry Isle Fisherman's Coop – Isleford, Maine
Project Size: 45 kW
Commissioned in: 2019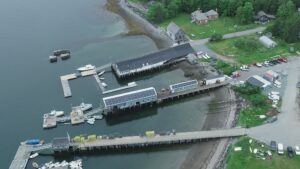 If anyone has first-hand experience with the importance of protecting scarce resources, it is Maine lobstermen. It is respect for the planet and good economic sense that inspired the Cranberry Isles Fisherman's Coop to install a solar system.
The coop was founded in 1978 and is comprised of 28 owners. Members enjoy greater purchasing and selling power collectively, and solar energy is no exception.
The solar system was installed by Sundog Solar and will produce 110% of the coop's power. The array is expected to save thousands annually and has an estimated payback period of just a few years. 
When proposed, the solar installation was unanimously approved by all the coop members. The system qualifies for a federal tax credit and depreciation and will virtually eliminate the coop's electricity bills. The coop also received grants from REAP and the Island Institute.
"We structured the solar loan with the bank to be spread out over 7 years," said Marc Nighman, general manager of the coop. "We are paying the same amount for the loan payments that we would have been paying for electricity. We just pay the bank instead of the utility company, and our expense line hasn't changed. When the loan is paid off, the solar system will continue to produce free power for many, many years. Solar energy makes economic sense for any business that can do the same."

Sundog Solar – Maine's Commercial Solar Energy Experts
Sundog Solar has a highly-trained team, including NABCEP-certified solar installers and licensed electricians. With years of commercial solar energy experience, Sundog Solar has an excellent reputation for giving each commercial solar project the time and attention it deserves.
From Rockland to Augusta, Camden, Bangor, Ellsworth, Maine, and beyond, we help businesses slash their energy costs while benefiting the environment. The Sundog Solar team uses innovative and reliable solar panels and equipment by SMA, LG, Schneider Electric, Solaria, REC, and SolarEdge. We work as a team to truly exceed customer expectations and get every commercial solar energy installation done right!