21 Mar

What do I need to know about solar panel warranties?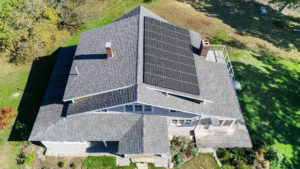 Most solar panels are very durable and reliably produce solar electricity for 25 or more years. With no moving parts, the PV panels we install don't require regular maintenance and come with long warranties. At Sundog Solar, we only install solar systems with long, comprehensive warranties and high-quality equipment to protect your solar investment. The Sundog Solar team installs several different brands of solar panels, including Canadian Solar, Hanwha Q-cells, LG Solar, and Solaria products.
Solar panel warranties vary among various manufacturers, and it is an important consideration when selecting a solar system for your home or business. Solar warranties help protect you from defects, making solar power a safe investment. There are two main kinds of solar panel warranties.
PV Panel Performance Guarantees
Over time, even the highest quality solar panels produce less electricity due to degradation. Although all solar panels become less effective in producing electricity over time, the exact rate varies by the PV panel. Performance guarantees ensure that our solar panels are generating a certain percentage of their original capacity after a given length of time.
Most of the solar panels that we install in Maine have a manufacturer's guarantee of 90 percent production after ten years and 80 percent after 25 years. This means that if your solar panels generated 10 kWh of electricity when the solar system was first installed, they will produce at least 8 kWh of energy after 25 years, under the same conditions.
Solar Equipment Warranties
Most solar PV manufacturers also offer protection against defective equipment. Many PV panels come with a 10 or 12-year equipment warranty covering the integrity of the panel itself and protecting you against premature wear and tear. Some PV panel manufacturers are now offering 25-year equipment warranties, including Solaria and Tesla.
Sundog Solar installs a variety of solar panels including Tesla solar panels. If a long equipment warranty is important to you, let us know, and we can design a solar system with these high-performance solar panels. They are also high-efficiency panels, meaning that they produce more energy in a small space.
When considering your solar panel and equipment options, the Sundog Solar team recommends considering solar panel warranties because PV panels are likely the most expensive component of your solar energy system.
Want to learn more about Sundog's solar warranties? Contact us at 207.548.1100 for a phone consultation about solar energy for your home or business.