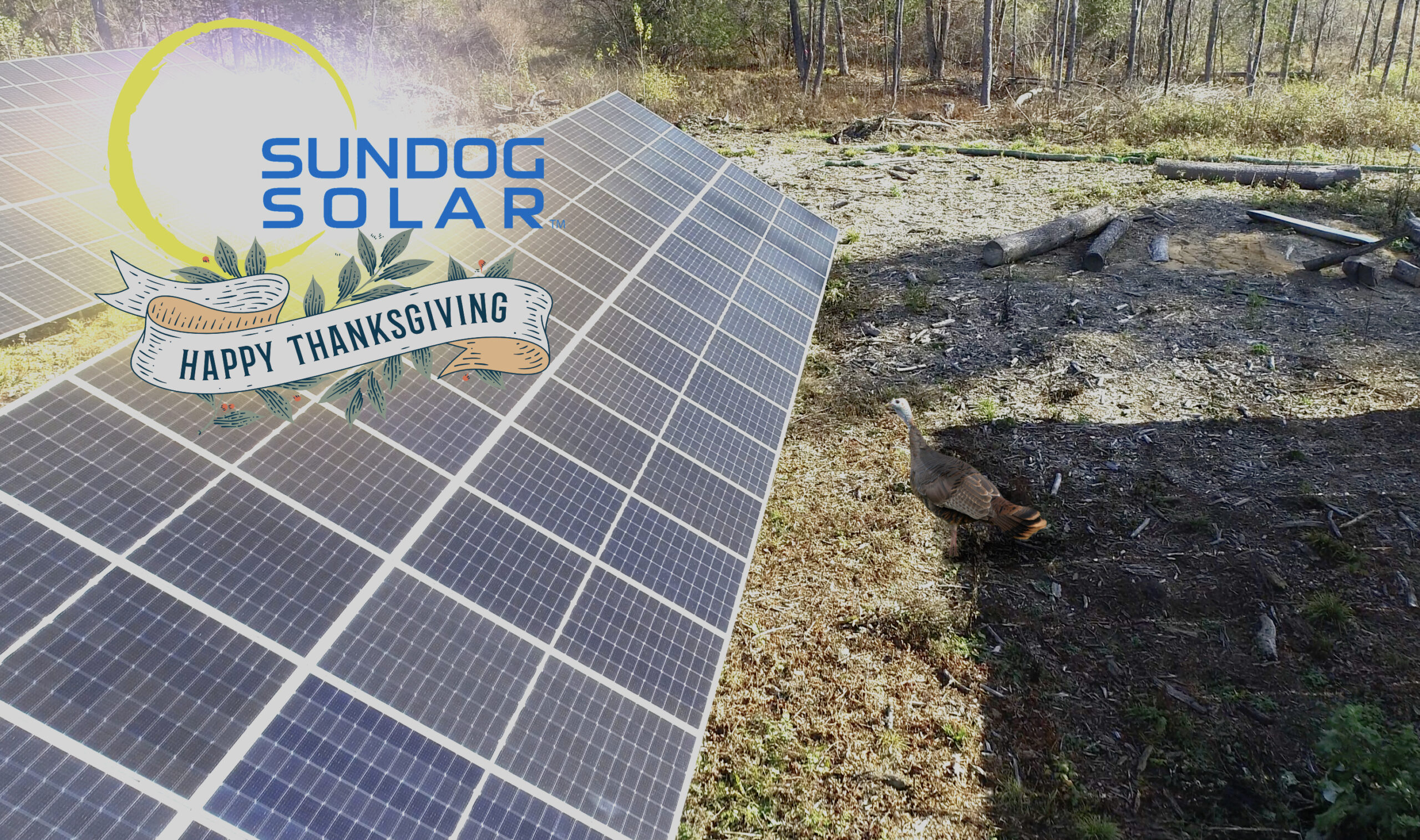 21 Nov

5 Reasons Why We Are Thankful For Solar Energy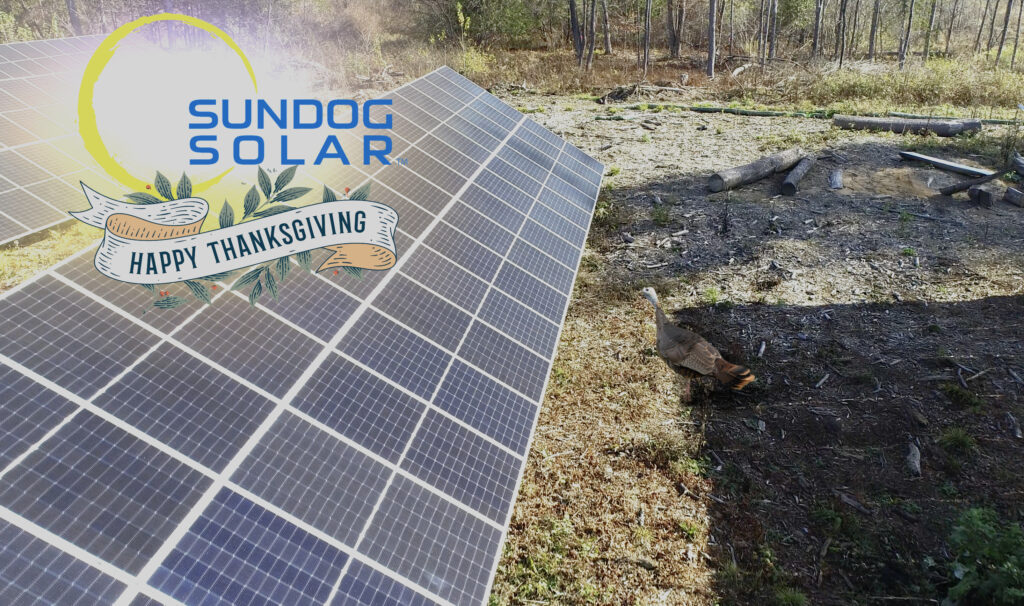 5 Reasons Why We Are Thankful For Solar Energy
Thanksgiving is right around the corner and it's time to start thinking about all the things we're grateful for this year. At Sundog Solar, we are all reflecting on the many reasons we have to be thankful for solar power. It not only provides the livelihood of all of our two dozen employees and their families, but also allows customers in our community the independence over their electrical needs. 
Solar energy benefits our local communities here in Maine, and it has the power to change the entire world for the better. To celebrate renewable energy this Thanksgiving, we've rounded up five reasons why we're giving thanks for solar power.



Maine IS A BEAUTIFUL PLACE TO LIVE, but also a Killer Place for Solar Energy  
As one of the most dynamic states in the country, it's no surprise that Maine is one of the leaders for solar energy as well. As a locally owned, MidCoast Maine based solar company, Sundog Solar is so thankful for the abundant sunshine that allows us to power our great state and help lead the nation towards a renewable energy future. 
Did you know that Maine has as many sunny days as Texas? Amazing, right!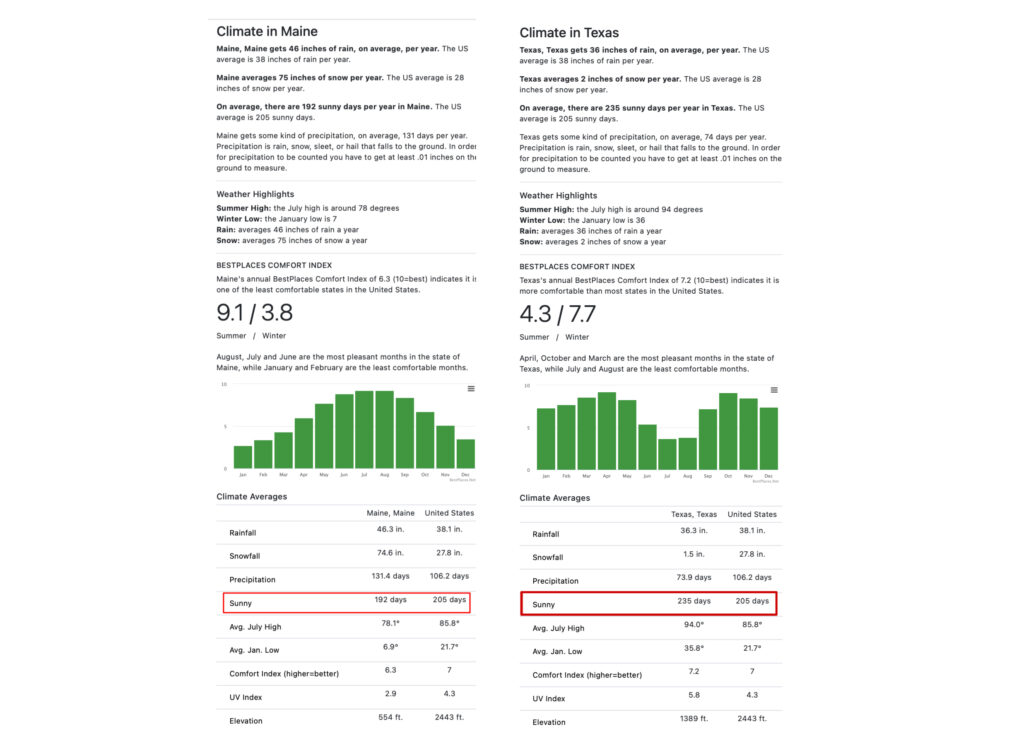 2. Solar Panels Help Maine Families Save Money 
Solar panels use free and limitless energy from the sun to generate electricity, giving homeowners reliable access to power, reducing their reliance and bills to their utility. With the addition of solar batteries, homeowners can save even more money on their electricity bills, avoid peak demand charges, or even eliminate them altogether. A complete residential solar energy system will protect you against volatile utility costs and grid un-reliability and provide you with affordable and reliable electricity for 25+ years.
Combine those energy savings with the fact that solar panel costs have fallen 64% over the last decade in Maine, and it's clear why so many homeowners are going solar. 
"Solar power in Maine on rooftops, utilizing 6,300 megawatts (MW) of solar panels, provide 60% of the electricity used in Maine according to a 2016 U.S. Department of Energy study."
Maine and Vermont are tied for the second highest rooftop solar potential in the country, only behind the state of California.
3. Solar Boosts the Local Economy & Brings Jobs to Maine
Solar brings excellent career opportunities to Maine residents! Currently, 7,346 people work in solar in Arizona. From solar engineers and PV panel installers to sales and marketing professionals, the solar industry needs talent across many different fields. Solar also offers a great opportunity for displayed fossil fuel industry workers to start a new career.
A recent report released by the Interstate Renewable Energy Council shows that the solar industry added more than 20,000 jobs nationwide last year, and employed more than 250,000 people. California, Florida and Massachusetts are the states with the most solar jobs.Maine is right behind them, and the report did show that solar employment in Maine grew by 15% last year, which was more than then national average.
4. Solar Energy Cuts Carbon Emissions 
Solar is a clean and sustainable energy source that's good for the environment. Solar energy production does not require the use of fossil fuels, which release carbon dioxide into the atmosphere when burned for electricity. Carbon dioxide is a leading cause of climate change, and the electricity sector contributes heavily to carbon dioxide emissions in the United States.
5. Solar Energy Protects Our Land and Water 
When we talk about fossil fuels, we usually focus on carbon and greenhouse gas emissions. But carbon isn't the only problem with fossil fuels. The extraction, transportation, and burning of fossil fuels also leads to air pollution, water pollution, significant water waste, and land degradation. Solar helps us combat these issues so that we can protect our planet and create a sustainable future for generations to come, it is also the most reliable energy source. The power from the sun is infinite. 
Looking for a Trusted Solar Installer Near You in Maine?   
Sundog Solar is Sundog Solar offers the highest quality customer service, solar panels, storage batteries, and heat pumps in the industry. Our team of solar installers includes licensed electricians and NABCEP-certified solar installers. We are also a certified installer for Tesla products, including the Powerwall solar battery.
All of our solar installations are 100% guaranteed, and we are committed to your complete satisfaction. There's a reason why Sundog Solar is one of the fastest-growing solar companies in Maine!