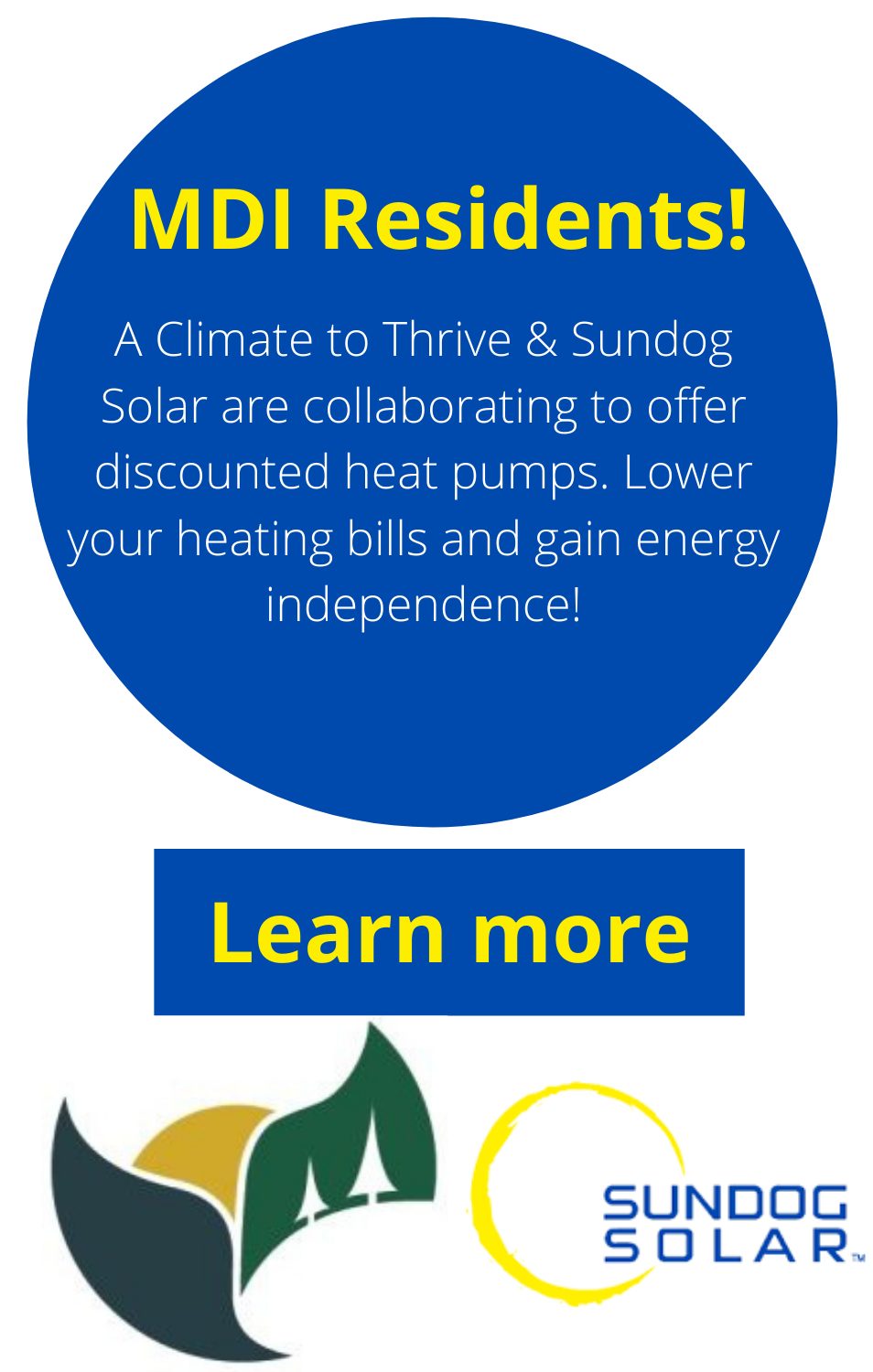 19 May

Sundog Solar Offers Discounted Heat Pumps to MDI Residents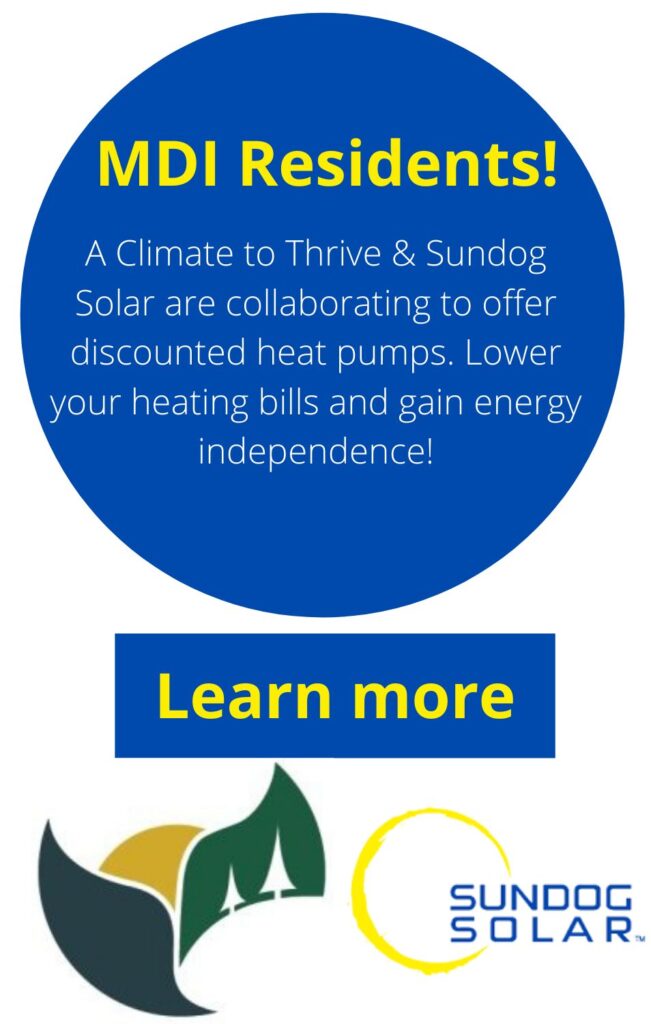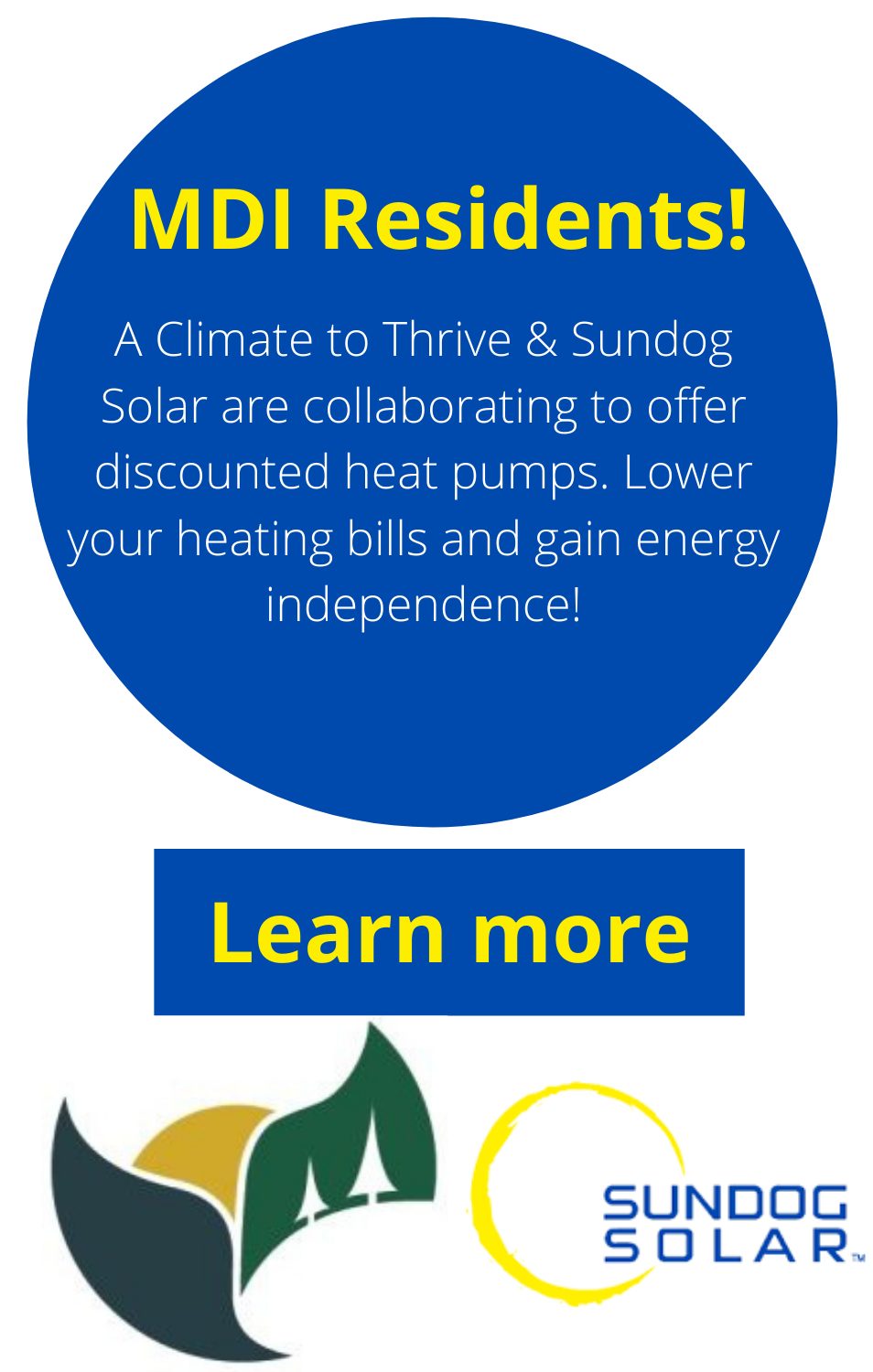 A Climate to Thrive and Sundog Solar are teaming up to electrify Mt Desert Island! The program offers discounted heat pumps to Bar Harbor, Tremont, Seal Cove, and Southwest Harbor residents. In addition, Efficiency Maine is offering rebates for up to $1,500 for energy-saving heat pumps.
The goal of the program is to boost local energy independence throughout the island, home to Acadia National Park. Heat pumps are very efficient and are one of the most economical ways to heat homes in Maine. In fact, heat pumps cost less to operate than a pellet stove and are significantly more economical than a propane boiler or oil furnace due to energy savings. If homes and businesses electrify and then source solar and other forms of renewable energy, it dramatically reduces greenhouse gas emissions.
"Heat pumps lower cost, increase comfort and health and help fight climate change," said Lawson Wulsin, executive director of A Climate to Thrive. "It's a win, win, win scenario!" 
Exceptional Home Comfort
Unlike the name implies, heat pumps also cool your home in the summer by working in reverse. This technology is an excellent way to boost the comfort of your home while significantly reducing your energy bills. Also, they enable residents to use zoned heating for exceptional home comfort.
Simple Heat Pump Installation Process
Ductless mini-splits are easy to install and work well on existing homes because they require no ductwork. Our team of skilled technicians is known for providing excellent customer service and completing exceptional work. We use high-quality mini-split units with long warranties to protect your investment.
Heat Pumps & Solar Panels
The two go together like wine and cheese or peanut butter and jelly! Using your rooftop to generate solar electricity and then heating your home with heat pumps allows you to dramatically reduce your reliance on fossil fuels while saving money. Sundog Solar has installed numerous solar systems and heat pumps throughout Mt. Desert Island, including MDI High School and the Tremont landfill.
A Climate to Thrive
In 2015, a group of concerned MDI citizens joined together out of concern for climate change. This non-profit organization is dedicated to achieving energy independence by 2030 and making MDI the epicenter of citizen engagement, sustainability, and economic vitality. The vision is to use renewable energy to reduce pollution and create a thriving local economy. A Climate to Thrive seeks to make the island a model of energy efficiency and sustainability for other communities throughout New England and beyond. Electrify MDI is the latest initiative by A Climate to Thrive and was launched in May, 2021.