31 Aug

Tremont to Install Solar Panels on Closed Landfill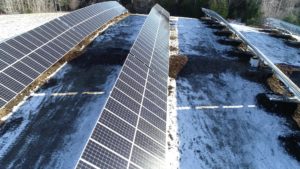 Voters recently approved a proposal to install a solar system for the Town of Tremont. The proposed 153 kW system will consist of approximately 450 solar panels. Soon, the solar array will produce an estimated 190,000 kWh of electricity per year which is approximately as much power as 29 Maine homes consume.
Sundog Solar is pleased to help the town save taxpayer money and make good use of the capped landfill on Harbor Drive near the town office. The company will install and own the solar system and sell power to the town for a discounted rate. Tremont currently pays between $0.17 and $0.18 per kWh of electricity and will soon pay only $0.125 for solar electricity. Over time, this will result in significant cost savings.
The town is not required to invest funds in the solar energy installation but is guaranteed the right to purchase the solar electricity under a power purchase agreement. It does have the option to purchase the solar system after 6 years or else it can continue purchasing discounted power solar electricity. Sundog Solar is responsible for maintaining and repairing the system as needed. The design life of the solar system is approximately 30 years.
"Sundog Solar is pleased to help the Town of Tremont cut its energy bills for decades," says Chuck Piper, co-owner of Sundog Solar. "Power purchase agreements for solar energy are growing in popularity across the country. Municipalities can lock in lower electricity rates, resulting in considerable cost savings. Sundog Solar installed a similar system for the Town of Waldoboro on a closed landfill and a garage-mounted system for the Town of Stockton Springs"
Initial work on the project will begin in the next few weeks, and the solar energy installation should be completed in early 2019.