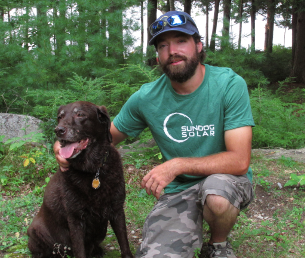 10 Mar

Meet the Sundog Solar Team

Due to their strong technical knowledge and work ethic, Chris and Will were recently promoted. They are not both operations manager positions for the solar installation team. You are likely to meet them if you are having a solar system installed by Sundog Solar.
Chris Noyes – Electrical Operations Manager
Chris is a solar installer and a Journeyman Electrician with a strong background in electrical systems. Before joining the Sundog Solar team in 2017, he served a sergeant in the Marine Corps. He earned a bachelor's degree in financial economics from the University of Maine at Orono and studied electricians technology at Eastern Maine Community College. Chris was also a rock climbing guide, making him very comfortable on roofs.
Will Quinn – Field Operations Manager
Will is a solar installer for Sundog Solar with extensive prior experience in the solar energy industry. After working on commercial solar installations, he ran a solar installation crew in Colorado for residential solar projects. Will graduated in 2014 from Washington County Community College in Calais, Maine, from the building construction technology program. He enjoys being outside, hunting, fishing, and spending time with his two dogs, three cats, seven chickens, and a goose.