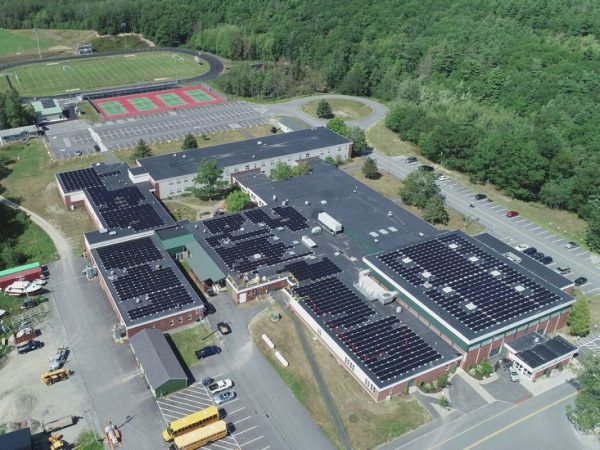 08 Nov

Solar Gold Rush
In the wake of new legislation incentivizing solar power, developers have come courting in Ellsworth. They are looking to make a deal through a power purchase agreement under which the city would pay for electricity generated by a solar farm on city property. City officials plan to solicit quotes for a farm of up to 5 acres. The capped landfill on Stabawl Road is one possible site. There is lovely symmetry in taking a former dump and turning it into a site to produce clean, renewable energy. However, neither the location nor the development is a sure thing.
Ellsworth stands to benefit from the arrangement. The developer would shoulder the risks and costs of developing and maintaining the solar farm. The city would agree to purchase power produced there at a fixed rate to offset municipal energy costs. After the contract term was up, the city could renew the arrangement, purchase the solar array or have it removed.
Some area towns are already harnessing the sun's power. Sundog Solar recently completed installation of a 1,450-panel array on Mount Desert Island High School's roof. The array will generate enough electricity over the course of a year to entirely offset the school's electricity consumption and will save the school an estimated $1.3 million in electricity costs over the next 25 years. Tremont's former landfill has a ground-mount solar array and Bucksport had solar panels installed at its wastewater treatment plant. Trenton Elementary School officials are considering installing solar panels on the school roof.
While the cost of making photovoltaic solar panels has dropped dramatically in recent years, part of what makes the math work is federal and state incentives, including tax credits and subsidies. Recent legislation has made solar development particularly attractive in Maine. Companies from around the country are trying to lock in a good deal before it's gone.
In June, Governor Janet Mills signed into law LD 1711, "An Act to Promote Solar Energy Projects and Distributed Generation Resources in Maine," which provides incentives for commercial and institutional customers as well as for community shared projects. Lawmakers also have restored net metering, which allows Mainers with solar power arrays to receive credits for excess electricity they produce that goes into the grid. Last month, Mills issued an executive order pledging that Maine become carbon-neutral by 2045.
About three-quarters of Maine's net electricity generation comes from renewable resources, including hydroelectricity, biomass and wind. Given current conditions, solar power stands to make significant gains while reducing emissions. But rushing to take advantage of favorable conditions can be dangerous. Solar power and its benefits are a long game. City officials are prudent to have formed a working group and to be taking a measured approach to seeing how best to make solar power work here in Ellsworth.
Published in the Ellsworth American on 11/01/2019