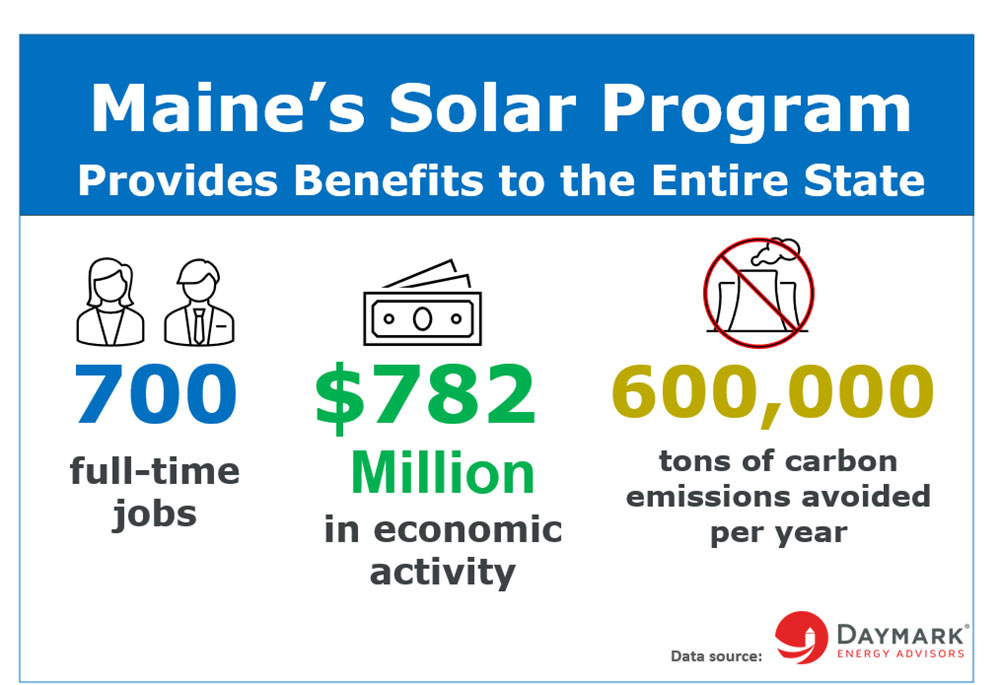 16 Mar

Solar for Maine Provides New Jobs and Savings on Electricity Bills

A new study (PDF) released this week by the consulting firm Daymark Energy Advisors shows that the increase in local solar energy projects encouraged by Maine's Net Energy Billing (NEB) program has already generated significant benefits to Maine people and businesses, and is on track to drive hundreds of millions more in new investment in Maine—while delivering significant cost savings to consumers and reducing emissions at the same time.

This study makes it clear: community solar and Maine's Net Energy Billing program have been incredibly successful. Not only have these projects moved Maine toward the transition to a clean energy economy, they've also saved Mainers money on their utility bills and driven job creation at the same time.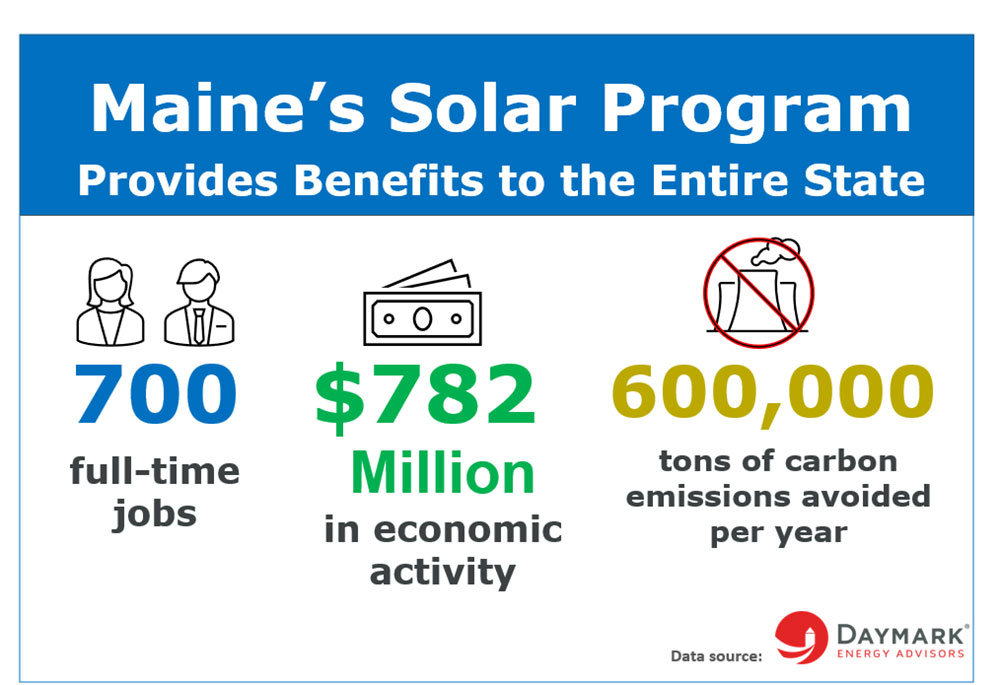 The study (PDF), titled "Costs and Benefits of Maine's Net Energy Billing Program," provides a thorough, independent review of benefits associated with bringing new solar energy online. In particular, the study finds:
Increased economic activity and new jobs:

NEB solar projects have already stimulated $60 million in economic activity in Maine, supporting hundreds of Maine jobs.
Projects in the NEB pipeline, once completed, would drive nearly $800 million in economic activity and support thousands of Maine jobs.
If the total pipeline of projects currently on hold are completed, they would support 1,400 full-time jobs for 5 years.

Direct savings to electricity customers, even if they don't have solar panels on their homes

NEB reduces electricity bills that Maine residents pay.
NEB also reduces transmission charges by reducing the load on Maine's infrastructure.

Reduced pollution to meet Maine's climate goals:

The NEB program is displacing natural gas usage, and is currently reducing 34,000 tons of carbon annually.
Bringing all in-process NEB projects online will reduce carbon emissions by more than 600,000 tons per year.
The study was conducted after the Maine Public Utilities Commission (PUC) released a report last year showing the NEB program's impact on utility revenues.
"Daymark believes the additional information regarding the full value of solar, including the environmental and economic impacts, will be helpful to the Commission and other government officials in their evaluation of the highly successful NEB program," said Carrie Gilbert, Managing Consultant for Daymark Energy Advisors. "Helping decision makers navigate their way toward a decarbonized future is a fundamental part of our business."
"It's important to understand that the NEB's cost to utilities does not necessarily translate to increased consumer costs," continued Gilbert. "Our study shows that the program provides a net  benefit to Maine when all factors are considered."
The PUC study has been heavily criticized by clean energy advocates like the Natural Resources Council of Maine for its narrow scope. Maine PUC chair Phil Bartlett has acknowledged the limitation of their report and has acknowledged publicly that a more thorough review could have been done if the Legislature had allocated funding for it.
"The Daymark study now gives us a solid basis for discussion about the benefits of the NEB program," said Jeremy Payne, Executive Director of the Maine Renewable Energy Association (MREA). "Policymakers can now make decisions about the future of the program through a full accounting of its costs and benefits—our priority has always been to ensure the future of solar in Maine is based on the most comprehensive set of facts."
The full Daymark study can be downloaded as a PDF.