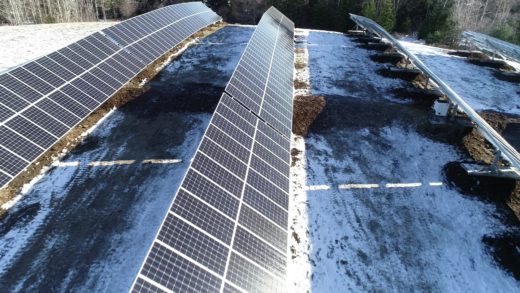 14 Aug

Former Maine Landfills Finding New Life with Solar Development

Published on August 14, 2019 in MaineBiz

The former landfill in Waterville at first glance would be a perfect development site — 130 acres next to Interstate 95, near the airport and close to the Oakland and Sidney lines.

The sun-splashed hill is dotted with wildflowers and waving grass, surrounded by pine. Eagles frequently soar overheard.

But a closer look reveals the ground under the wildflowers is hard-packed and gray. At the bottom of the hill, which is dotted with methane pipes, a collection of rusted dumpsters are scattered through the flowers.

It's a hard fact that almost every city and town in Maine has a capped landfill, or one that will be capped soon, but there's not much development potential for the land.

But 44 miles southeast down Route 32, in Waldoboro, besides August wildflowers, the former landfill shows the one use that can make money — four banks of solar panels angled toward the sun.

Increasingly, particularly with new laws this year making it more welcoming, solar companies and municipalities are turning to the sun and finding a lucrative low-impact use for the land.

In Waterville, as well as neighboring Fairfield, that comes in the form of a lease to a solar developer, the municipality collecting money from the lease and taxes on equipment, and the developer selling the power to third-party customers.

In Waldoboro, Tremont, South Portland, Portland and Belfast, a developer, the municipality and an investor have partnered on deals that will provide the community with lower-cost electricity.

"There's really no other use for the land," Chuck Piper, co-owner of Sundog Solar, in Searsport, told Mainebiz. Sundog developed the Waldoboro and Tremont arrays. "[Capped landfills] were made for this."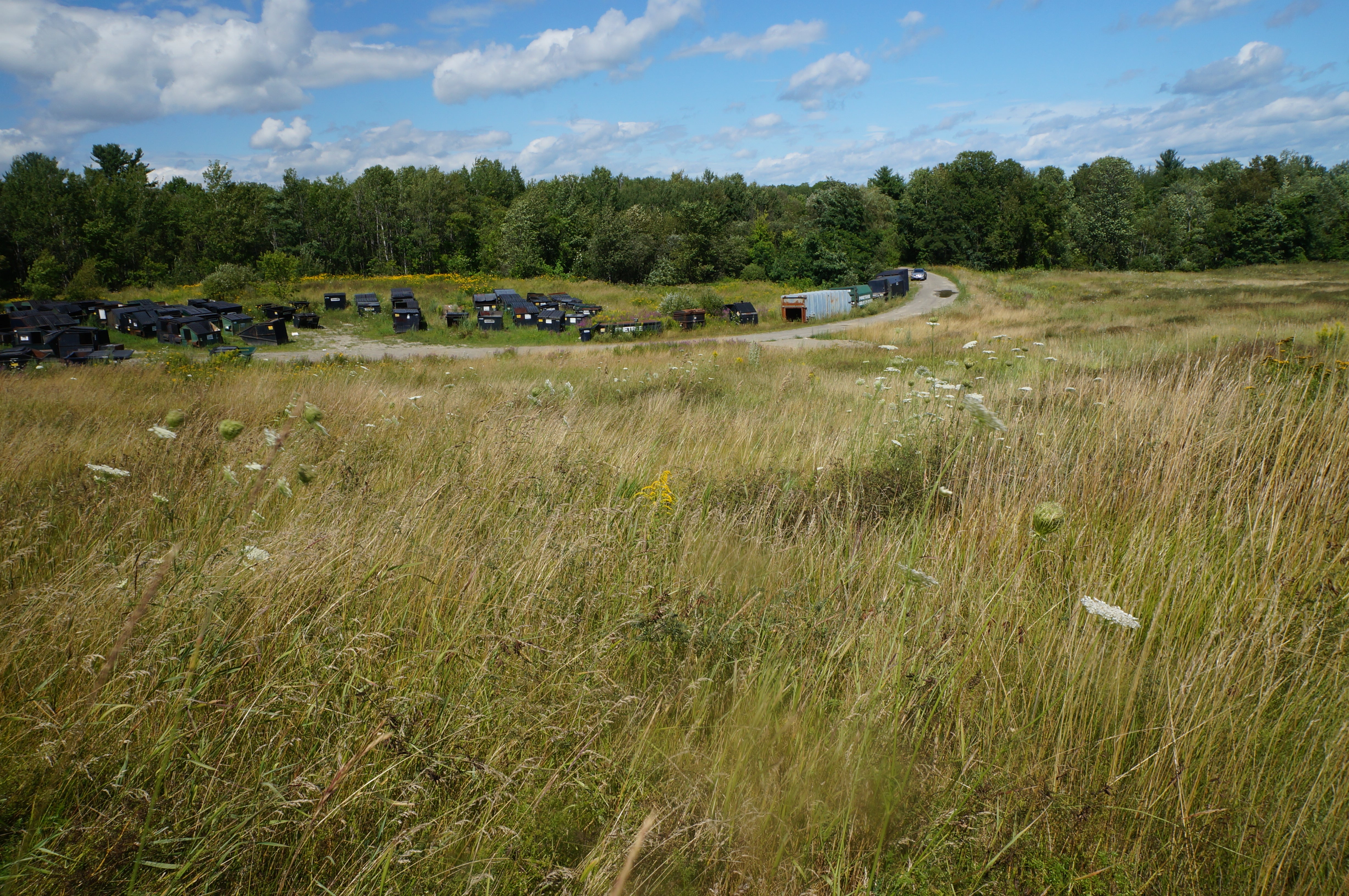 PHOTO / MAUREEN MILLIKEN
Solar or… dog park?
There are more than 400 capped landfills in Maine, according to the Department of Environmental Protection. Towns and cities that are still using their landfills must have a plan in place to close them by 2025. In many municipalities, that land, if not for the landfill, would be valuable development property. Once a landfill is capped, use is severely restricted.
The DEP doesn't allow a structure to be built within 100 feet of the solid waste area of a former landfill. Solar arrays top the list of approved uses. The others are recreational fields, dog parks and butterfly gardens.
Garvan Donegan, director of planning and economic development for the Central Maine Growth Council, said that given the benefits, solar projects on landfills will become more common.
"From a land use planning perspective, siting a large scale solar array on a closed and capped landfill represents a new and innovate approach to strategic energy creation, municipal tax base growth and diversifying municipal tax revenues," he told Mainebiz. "I would project that over the next five to 10 years, municipalities across the country will be reviewing their brownfields and landfills for potential local energy generation.
"It will be extraordinarily exciting to shortly view a brownfield turn into a bright site, which will yield local economic benefit, including job and GDP creation," he said.
The solar array in Waterville, being developed by hep energy LLC, at 20 megawatts, will be the largest in the state, and while it won't hold that title for long, Donegan said it will be the largest landfill array for some time. It will also be one of the large landfill arrays in the countyr, he said.
The caps on the landfills are clay that's sealed so contaminants don't leak out. That's covered with a shallow layer of dirt that allows grass and wildflowers to grow, but not much else.
Piper, of Sundog, said there's another benefit to using the land for solar — it's an  alternative to tillable farmland that's frequently used now.
Piper said not every landfill is appropriate for a solar array, but most are. There has to be a fairly flat area to put the 2,000-pound concrete blocks that support the panels, for instance.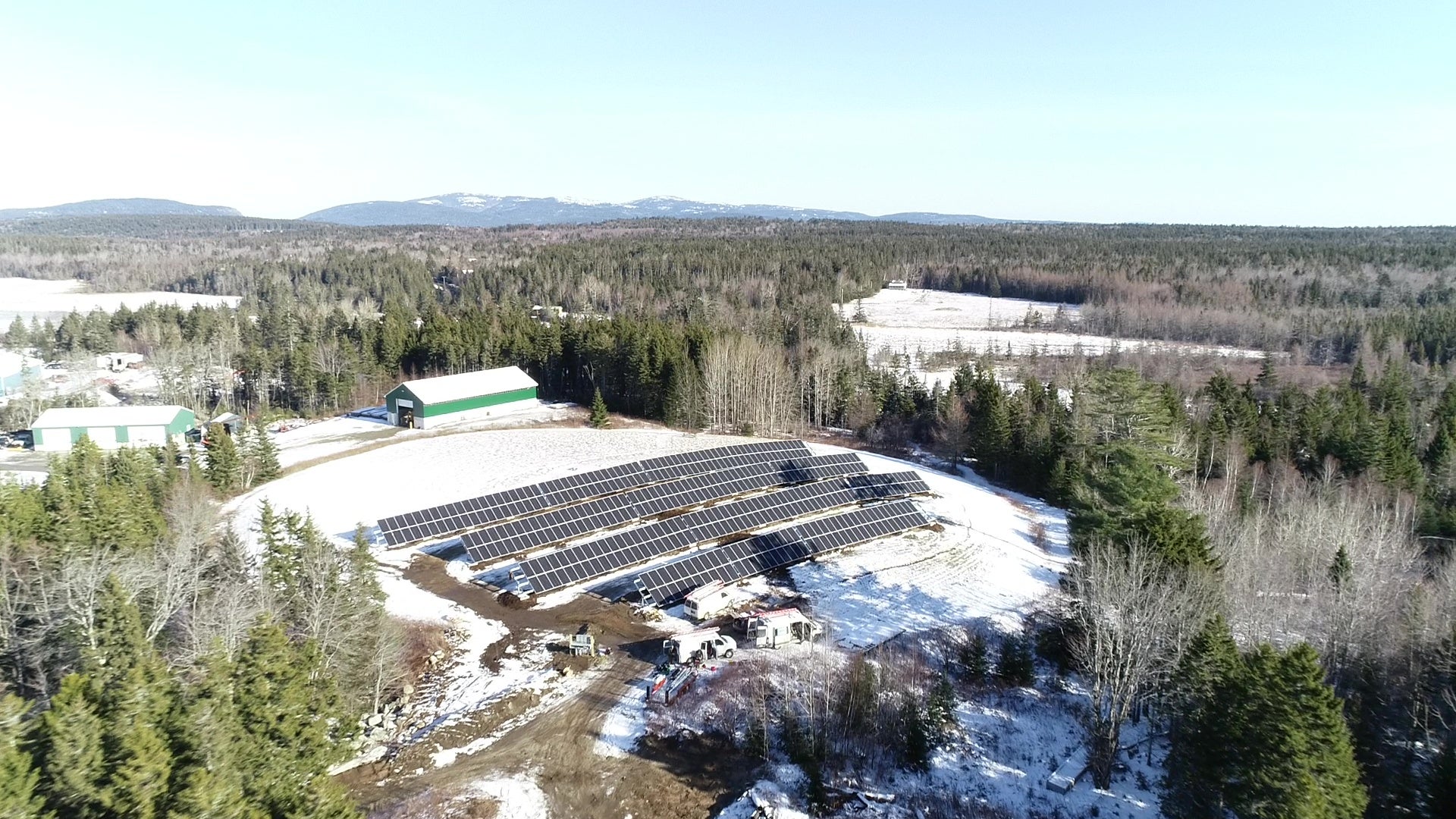 COURTESY / SUNDOG SOLAR
Projects big and small
The first municipal solar landfill project in Maine was in Belfast, completed by ReVision Energy in late 2015. The 120-kilowatt (396 panels) array, along with a smaller array at the city's fire station, takes care of 20% of the city's municipal energy use at its 11 municipal buildings.
ReVision has since installed arrays on landfills in Portland and South Portland.
Sundog got in on the trend with the Waldoboro project, which went online last year, and one in Tremont that went online earlier this year.
"Every town has a closed landfill, or will have one," Piper said. He said his company is approaching towns that may be receptive to such a project, and is working on one in Damariscotta that was approved by voters in June.
South Portland has the largest municipal landfill solar array in the state, developed by ReVision. The 2,944 photovoltaic panels went online in October 2017 at the 34-acre site behind the city's transfer station. It generates 1.2 million kilowatt-hours of energy a year, about 12% of the electricity used by the city's municipal and school buildings.
Portland's went online in December, covering four acres of the former landfill on Ocean Avenue. It has 2,816 panels and also produces 1.2 million kilowatt hours of energy a year, about 3% of the city's municipal energy use. It's one of several city solar arrays as Portland moves toward its running on 100% renewable energy by 2040.
The Sundog Waldoboro project, by contrast, produces 110 kilowatt hours and the one in Tremont 153.
Waldoboro pays $18,000 a year for energy, and the town estimates it will save about $380,000 over the expected 30-year life of the array. Tremont's 153-kilowatt array pays for 100% of the town's energy needs and is expected to save it around $400,000 over 25 years.
Landlords or partners?
Municipalities can approach solar landfill use in different ways.
Waterville and Fairfield are landlords — the developer is leasing the land and will sell the energy.
Revision and Sundog's landfill projects are part of power purchase agreements, in which an investor funds the development, and the developer owns it as a special purpose entity.The entity then pays back the investor, and the energy is metered and credited back to the town.
Both Revision and Sundog give the municipality the option of buying the array after seven years.
Because towns and cities can't take advantage of federal solar tax credits, but the investor can, it helps towns get in on lower-cost solar deals.
Sundog's projects were funded by Coastal Enterprises Inc., which gets zero-interest loans from the Nature Conservancy to include in its lending package to solar developers.
John Egan, CEI chief investment officer, told Mainebiz earlier this year that the loans "move the needle" for towns that may want to install a solar array, but can't afford the upfront costs.
A survey by the Nature Conservancy in 2017 found that 55% of  municipalities are interested in installing solar panels on municipal buildings or property, yet they don't have the tax revenue or grant funding to move ahead.
Since the towns are already budgeting for energy use, the loans mean they don't have to increase the budget to get the array installed, Egan said.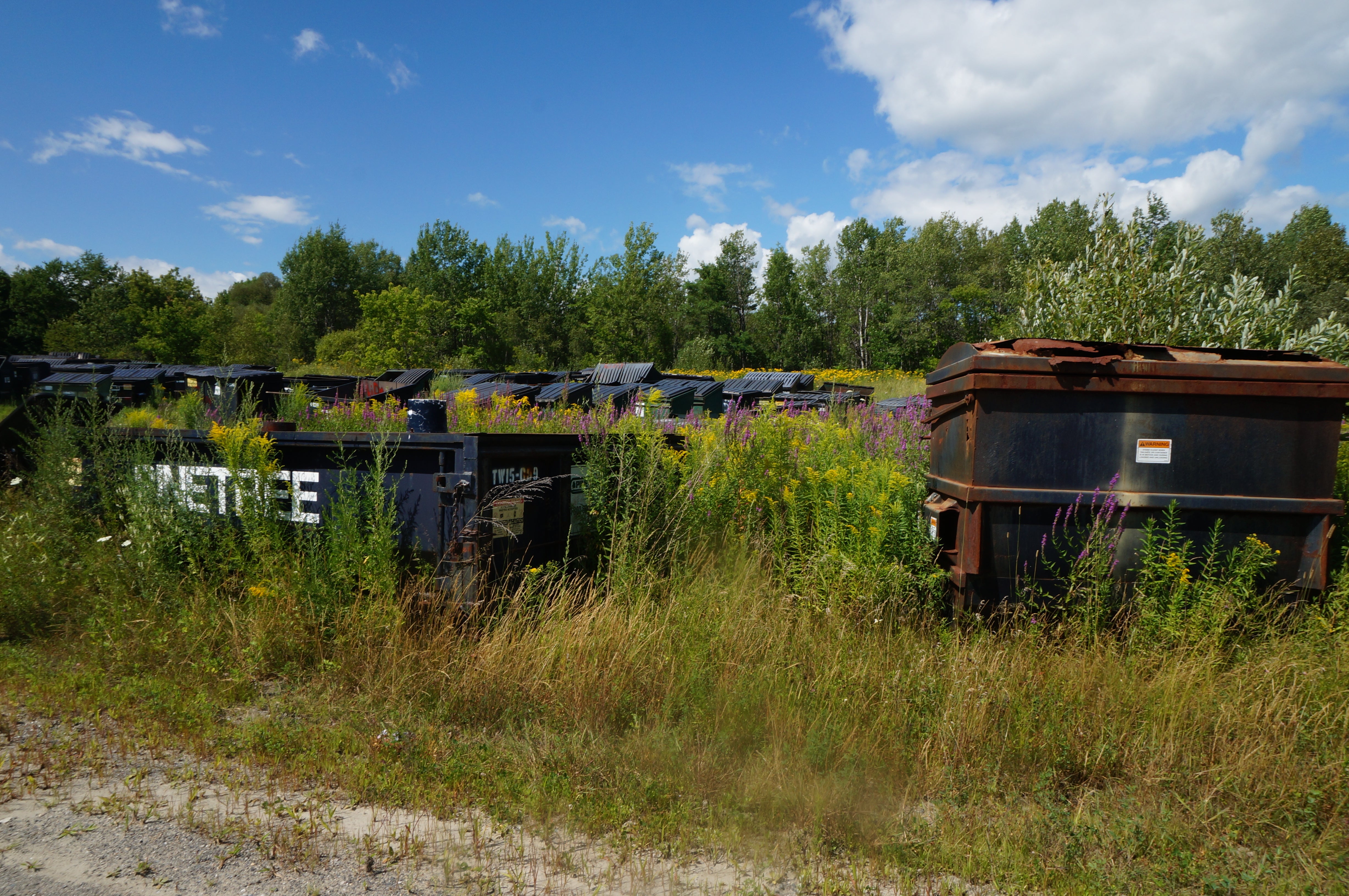 PHOTO / MAUREEN MILLIKEN
Leasing, collecting taxes
The Waterville and Fairfield projects are being developed by hep energy USA LLC, of Portland, a subsidiary of hep global GmbH.
Donegan said the project "illustrates foresight and leadership on innovative approaches to landfill redevelopment."
The Waterville project will be 20 megawatts (one megawatt is 1,000 kilowatts) — double the size of the current largest array in the state, in Pittsfield — and the Fairfield project is five. The developer is free to sell the power anywhere.
The Waterville City Council approved a lease earlier this year that will allow hep energy to lease 130 acres at the landfill, paying the city $2,000 a year during the two-year development term of the lease, then $425 an acre during the 20-year operating term. Hep is also leasing a 28-acre parcel nearby. The city will also tax the equipment on the property.
At the May council meeting approving the lease, Councilor Phil Bofia suggested the city look into an agreement that addresses some of its energy needs, but other city officials preferred the straight-out lease agreement.
"I don't think you could find anyone who would pay $425 for a garbage dump that has been sitting there since 1993," said City Manager Mike Roy, according to the Morning Sentinel. While estimates of the taxes haven't been determined, Roy said they'll be far more than what's generated by the lease.
Fairfield approved a similar lease for 25 acres of its former landfill.
COURTESY / OFFICE OF GOVERNOR
'World is changing'
New state laws that are more welcoming to solar that passed this year mean the landfill trend is picking up steam, Piper said.
Previously, if a municipality owned its array, it wouldn't be allowed to sell any extra energy it produced and would have to use it all. Now municipalities can sell the surplus, which makes deals where a city or town could eventually own its array more beneficial. Other legal changes have also made it easier to get funding.
He estimates that one acre of solar panels will produce about $8,500 worth of power per year.
When Piper started Sundog with his son Danny in 2008, it was just the two of them. Now the company has 25 employees. With the new laws, "Now we can gear up fast," he said.
The company is almost fully booked for the year and he'd like to hire more employees, but it's tough to find qualified solar installers.
"Our world is changing," Piper said. Towns are increasingly being approached by out-of-state developers looking for land for solar farms, including some that would allow area residents to buy in.
"Someday almost every town in Maine will have solar on its landfill," he said.