Many Maine businesses are challenged by rising energy costs. Sundog Solar installs commercial PV systems and solar water heaters with a high return on investment, lowering operating costs for several decades. Sundog Solar can engineer and install complex solar systems that are customized for each project.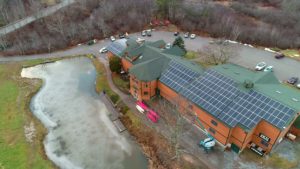 At Sundog Solar, we understand the importance of using reliable and innovative solar panels, equipment, and batteries. Our team has installs industry-leading components with long warranties and high-quality materials.
Our solar experts install the best solar panels and equipment in the industry. We install Blue Planet, Canadian Solar, Hanwha Q-cells, LG Solar, Solaria, SolarEdge, Sonnen, SMA, Silfab, Pika Energy, Schneider Electric Conext, Enphase, and SMA Sunnyboy products.
Did you know that Maine businesses can take advantage of a federal tax credit for 30% of the total system cost? A tax credit is a dollar-for-dollar reduction in federal taxes owed and is more valuable than a tax write-off. In addition, solar businesses can take an accelerated depreciation of 85% of the system cost over a six-year period. Now is a great time to go solar in Maine!
Want to find out how much your business or organization can save with solar energy? Sundog Solar offers free phone consultations and site surveys. We begin by learning your business or organization, your energy needs, project budget, and goals.
Want to learn more about solar energy for your business? Contact Sundog Solar today!